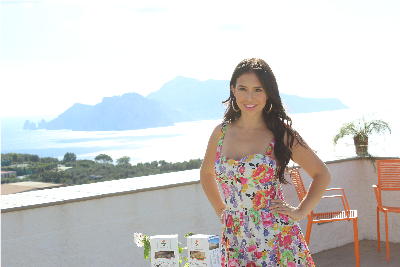 Just got back from my Sorrento with Rossella Tour and words cannot describe how happy I am for the way it turned out. We all arrived in Sorrento as acquaitances and after so much fun, food and wine, we left as Friends! (PS:  A reunion is coming up soon in the New York metropolitan area!).
However, this Tour would have not been possible if my good friends Jennifer and Pasquale from Divine Amalfi Villas had not put their soul in the organization and execution of the Tour. They did a superb job... Bravo!!!!
I also must thank my friend Maryla Colandrea of AP Event Design  for making the welcome dinner and other days  beautiful welcoming events. A big hugh to Tony Riccio for being so patient with all of us and taking so many beautiful photos. And lastly I must thank my second brother John Cristino for working from early in the morning to late at night to film all the events. (Many videos coming soon!!!).
Of course, I must not forget all the Guests/Friends that came on the Tour as without them there would have been no Tour. I hope they all had fun and will share their memories with Friends and Family.

You can see many photos from the Tour here:
As this Tour was a complete success and many of you missed it, in September 2014 I'm planning to do two tours to southern Italy: one back  in Sorrento and one in my home region of Puglia. So save the dates and start making plans to join me on these new journeys!!!! If you would like to be informed about the details of the Tours, please Join La Famiglia and I will be sure to keep you up to date!

Ciao,
Rossella