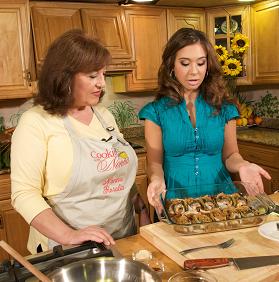 Ciao a Tutti!

Now that the dishes have been washed from the weekend, it's time to start anew!  For this week, we're going to be treated by another indomitable, effervescent, and aromatic visit from Nonna Rosalia!  Here to wow us once again with her spicery from Sicily, she's going to show us how to make a dish as old as the island itself, the blooming and piquant Sarde Beccafico.  
The landscape of the dish is dotted with ingredients that are unique when considering they're going to be complimenting a fish meal:
the pine nuts provide an auxiliary body of flavor, and the currants make for sweet little explosions of fruit in every bite.  Serving as a trusty sidekick, we have a little bit of Parmesan cheese for good measure, some breadcrumbs for a dry, crunchy taste, all found in and around our fish, gently caressed by a flowery plumage of onion slices.

Thank you, Nonna Rosalia, for being my Nonna once more, and introducing us to this wonderful Sicilian tradition.  After you make it for yourself, you'll make this sweet, crunchy, golden recipe a part of your own culinary tradition.

Tanti Baci,

Rossella