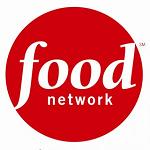 I'm sure many of you are wondering how a scrappy chick from Brooklyn with a web show about cooking with Nonna's got herself on to the Food Network.  Not to mention dragging her own mother and Nonna along for the ride.  Now, I don't think I would feel the need to write a blog about this story if it wasn't so extraordinary.  But it is.  So here it goes.

I've always somewhat believed that certain things were meant to be and that fate ultimately shapes our destiny.  On July 2nd of 2009, just 2 days shy of my twenty second birthday, I visited a psychic.  We had barely launched Cooking With Nonna and I wanted some guidance on this new career path now that college was behind me and I was officially a "grown up".  Everything seems like routine psychic banter until I show him one of my classic Cooking With Nonna food porn flyers. The ones that all of you know and love with my wind blown hair and big smile while I clutch a focaccia! He studied it for a moment and then spoke.  "In one year, you will be on the Food Network" he said to me, with a sort of frightening conviction.  Ok, so the magic psychic man said I will be on the Food Network, let me take this statement to the bank.  It seemed absurd at the time.  But as I left his office and began to walk around New York City, my thoughts began to race about the possibility of this being a reality.  I simply put that thought in the back of my brain and filed it under "We'll see about this one". 

Nearly seven months later I found myself with a lovely following on Facebook who really began to respect what I was doing enough to suggest restaurants for me to try. Some people even invited me to try their own restaurants!  It was then on a rainy evening with my dad Vito that I stumbled into Cataldo's in Brooklyn. 

A cozy family run restaurant with brick oven Pizza to die for (Try the Pizza Pugliese, it's my favorite) and portion sizes as big as the owner's heart.  The proprietor Cecilia hails from my family's town of Mola di Bari in Puglia, Italy, and apparently our families hung out. First of all, even having been drenched in a rain storm didn't hinder Cecilia from recognizing me. I had never met this woman before, but as soon as we met she felt


 

more like Zia Cecilia than just Cecilia from Facebook.  Her face immediately lit up like a Christmas tree upon seeing me and I'll be honest, that sweet lady gave me the warm fuzzies as well.  It seemed like as soon as we sat down food started appearing, and lots of it.  Eggplant parmigiana, Insalata Caprese, several Pizza's.  I didn't think I could handle it, but every bite was delicious!  As we enjoyed our meal, Cecilia milled around the restaurant alerting other patrons that I was there.  I am by no means a famous celebrity chef, or a chef at all for that matter, but Cecilia seemed to think that I was the coolest thing since pants with pockets and I was beginning to blush.

In many ways, I can say that we made it to the Food Network because some people refused to mind their own business.  Akira Fitton and his wife were those people.  While Cecilia regaled them with the concept of my show during a leisurely dinner, they seemed to be just as interested as anyone who loves food.  I really didn't expect anything out of the ordinary to come out of it.  Akira went home and took a good look at the Cooking With Nonna website. Three weeks later, totally out of the blue,  he e-mailed us a link from Craigslist about a search for Italian  families to be on a new Food Network reality show.  You heard me, CRAIGSLIST!  I guess you could say that Akira became my Food Network Fairy Godfather, and that our chance meeting was the classic example of being at the right place at the right time.  Or was it destiny guiding me somewhere?

I quickly e-mailed the casting producers who were either looking for teams of mothers and daughters or grandmothers and granddaughters.  I had both, so I thought I'd leave the choice up to the professionals. Needless to say, we heard back right away and I was asked to bring both Nonna and Mamma to the audition, and deep down inside I knew that they would want all three of us.  If you saw our audition tape you would understand why.

What really set us apart was a steady three minutes of fighting between my mother and Nonna about my mother's smoking habits.  Believe me, if I could type in both accents I would.  I felt like we were so likeable as this sort of Italian three stooges with me as the straight man, not that I had a choice in the matter. 


We were all differently dynamic women from three different generations, but at the same time we shared a loving bond that was very evident. The very next day Team Nonna received a call from  the producers asking us to be a part of the show.  Their search was over and we had the opportunity of a lifetime before us.  Everything happened so fast that it didn't even occur to me that almost a year ago the psychic I visited told me this would happen.