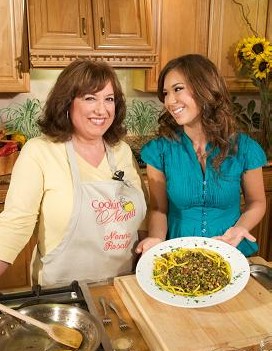 Ciao a Tutti!

Recycling is a wonderful thing, something that everyone should do, in fact. And it's with that tutelage in mind that we are endeavoring to do the same with this week's episode, the grand reheating of Nonna Rosalia's Sicilian sensation: Pasta con Sarde (Pasta with Sardines)!

The recipe is just as fun, (perhaps) now twice as fast for you to make, and has three times more asphyxiation-by-pepper than your average Cooking with Nonna episode. So peel back a brand new can of sardines and treat yourself and your family to a delightfully colorful Sicilian favorite.
The production of the second season is now in full swing! There's so much to look forward to in the coming weeks, so keep checking back for all the exciting new developments.
Until next time...

Tanti Baci,

Rossella