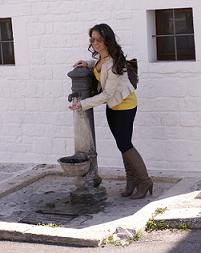 I just came back from a wonderful trip to Puglia organized by the Puglia Center and sponsored by  Consorzio Terra Antica and Puglia Doc. I must say that it was one of the most mesmerizing trips that I have ever been on: the landscape, the Masserie, the food, the people... everything was just perfect!

On this trip I was accompanied by six great ladies and only one man, my dad Vito... sorry for him.  The ladies on the trip were: Rosanna Coscia (President of the Puglia Center, or as we called her: La Generale), Kate McGrath (PR agent for Puglia Center), Jennifer Ceaser (journalist from the NY Post), Martha Bakerjian (journalist from About.com), Jessica Langan-Peck (journalist from the Frommer's Travel Guide) and Sharon McDonnell (freelance journalist based in New Orleans).
Once we landed in Puglia, by the way we were very lucky to avoid the cloud, we were driven to the beautiful Masseria Montelauro just outside of Otranto in the province of Brindisi. On the outside, this Masseria has a very traditional architecture, but on the inside, Elisabetta, the owner of the Masseria, has taken great care to create an amazing atmosphere with white furnishing  and some black accents. Of course once you entered any of the rooms, the vaulted ceilings and the exposed stone took you back hundreds of years.
As the weather was not the best in the two days that we were at Montelauro, Elisabetta arranged for all of us to participate in two cooking classes. One were we learned how to make fresh pasta (orecchiette, cavatelli, maritati and many more) and another where we made a very light eggplant parmigiana with mortadella and several other dishes.

Of course Montelauro has very beautiful gardens full of vegetables, herbs and fruits that during the summer provide fresh produce for all the guests and not to mention the very large pool next to olive groves.

I must admit, this masseria was a real gem!
Here are a collection of photos from Montelauro... enjoy them:
{morfeo 29}