Meet Nonna Maria Auriemma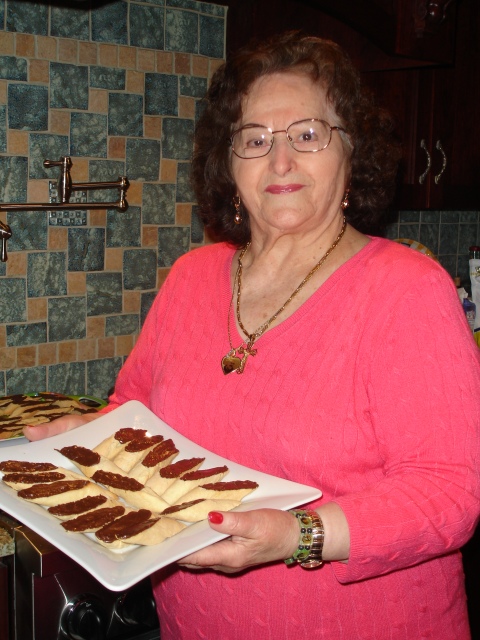 About Nonna Maria
Nonna Maria was born in Marigliano, Naples, a small town with beautiful views of Mount Somma and Mount Vesuvius. She is the youngest of five children born to Antonio and Filomena Falco. One of her fondest memories is when her father taught her to drive a car. She was the first woman in her town to drive and that gave her a bit of celebrity stature. Nonna Maria admits to turning a few heads when she drove around town.
She married Antonio Auriemma in 1955, and soon they had their own family with two young daughters. Antonio had a tailor shop in the heart of town and Maria kept herself busy raising her daughters, sewing, taking care of her mother and naturally, cooking for everyone. Her favorite dishes were fresh pasta, meatballs, pasta e fagioli, and sweets.
In 1961, Maria and her husband decided to move to the U.S. to provide a better future for their family. They settled in Mineola, Long Island, NY and soon Antonio had opened his own tailor shop. They also had two more daughters and were happy with their life in the U.S. The family always spoke Italian and the Neopolitan dialect at home and Maria taught her daughters the importance of a good, home-cooked meal. Her children remember that Italian music always played as their mother cooked in the kitchen. At Sunday dinner after Mass, there was always a friend or two extra at the table.
Today, when her grandchildren come to visit, most of them want Nonna Maria's meatballs and lasagna. She is passing on her favorite recipes to her eleven grandchildren, as well as teaching them to speak Italian. Nonna Maria knows that bringing the family together at the table to enjoy a home-cooked meal plays a big part in keeping a family close.
Nonna Maria Auriemma