Meet Nonna Rosada Guccione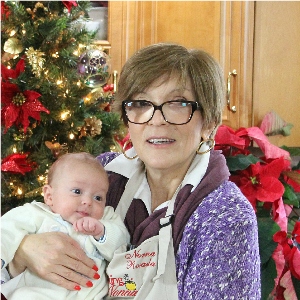 About Nonna Rosada
My name is Rosada and I'm a new nonna. My grandson is only 6 weeks old so I'm new at this nonna business.
My cooking experience comes from what my mom has taught me and what my grandma tough her. As a mom I cook for my family and I try to do my best. I still ask my mom how to make certain things especially "urcidatta" or "sfingi" and other delightful Sicilian recipes. As you can see, I'm still learning... hey I'm a young Nonna!
I come from Alia a small town in in the province of Palermo, Sicily. Each town has its specialties for the holidays. Alia has the "urcidatta" made of almonds or fig fillings.
When I'm in Alia it's fun to be in a supermarket at Christmas time were everyone knows each other. You hear the ladies compare their recipes and talk about how they make the "Urcidatta" and all the hard work it takes to make the cookies.
The Nonne don't mind because they make their grandchildren "I nipotini" happy. You can feel the Christmas spirit all around.
I'm happy to be a new nonna and I have lots to learn still. As Rossella says: it is good to keep our traditions alive and to teach the younger generations. Certain things should not be lost or forgotten.
Nonna Rosada Guccione