Pizza Rustica
I have been making this recipe with my Nonna Antoinette Pandolfo every Easter since I was a kid growing up in the sixties. This recipe is one of our family favorites and hails from Campabasso, Molise, Italy. I hope you all enjoy this Easter treat as much as we do.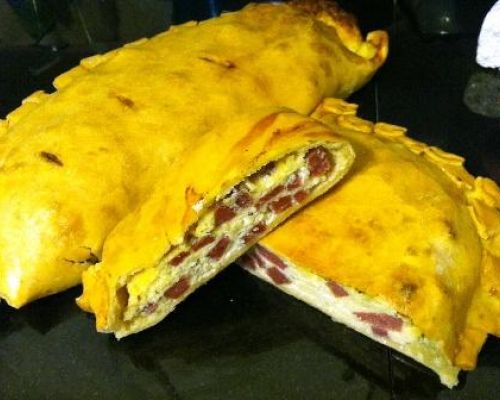 Ingredients
For 3 Person(s)
For the Dough:
6

cups

all purpose flour

1

tablespoon

baking powder

1/2

teaspoon

salt

4

large eggs

1/2

cup

water

2

egg yolks for brushing
For the Filling:
2

pounds

hard salami

1/2

pound

prosciutto (not cut too thin)

1/2

pound

sopressata

3

pounds

basket cheese - homemade

1

pound

ricotta - homemade

1/2

cup

pecorino romano

4

large eggs

1 1/2

teaspoons

baking powder

1

teasponn

black pepper
Directions
To Make Dough:

In a large bowl add all dry ingredients and whisk to mix.

Next, scramble eggs with water then add to flour.

If dough is too wet, add more flour.

If too dry, add more water.

Cover dough with plastic wrap and let rest for 15 minutes.

On a floured knead dough by hand for a couple of minutes.

Dough should be soft and shiny. Set aside until ready for use.

To Make Filling:

In a large bowl, shred basket cheese.

Next cut salami and sopprasata into 1/4" cubes.

Add rest of ingredients (except prosciutto) and mix well.

Next, cut off a 1/3 size piece of dough.

Roll it out to about 1/8" thick and 15" round.

Spoon 1/3 of the mixture onto 1 side of the dough.

Be sure to leave a 1" border so you can seal pie.

Place a layer of prosciutto over the top of mixture.

Flip the other side of the dough onto cheese mixture to cover.

Pie should be half moon shaped.

Make 3/4" cuts along edge of pie and fold over to seal.

Place on cookie sheet lined with parchment paper.

Cut three 1 inch air slits for vents on top of pie.

Brush with egg yolk.

Bake at 350° for about one hour. Pie should be golden brown, Remove from sheet and let rest on brown paper bags until cooled.

I use cut paper supermarket bags.

Wrap with foil and refrigerate or freeze for later consumption.

Enjoy!
Recipe Notes
You can seal the pie edges any way that you would like, however I fold it as described for family tradition.