Pizza Rustica
Pizza Rustica... the one and only!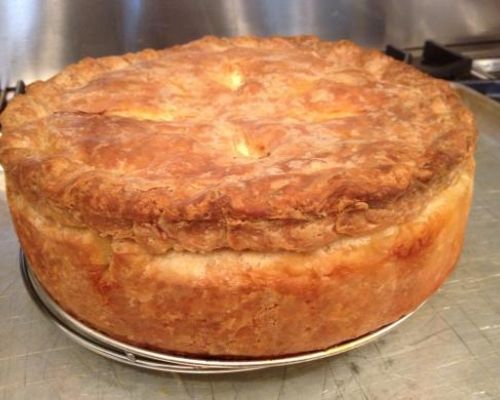 Ingredients
For 8 Person(s)
The Cheeses:
3

pounds

ricotta

1/4

pound

provolone

1/2

pound

mozzarella

3

large eggs slightly beaten

3

tablespoons

grated parmesan
The Meats:
1/4

pound

pepperoni

1/4

pound

prosciutto

1/2

pound

genoa salami

1/2

pound

sweet sausage browned and crumbled
The Dough:
3

cups

all purpose flour

1/2

teaspoon

salt

1

tablespoon

sugar

1/2

pound

butter, lard or Crisco cut into cubes, then put in the freezer to get ice cold

2

large eggs
Directions
Stir flour, salt & sugar together. Work shortening of choice into flour, mix the eggs in and add as much additional ice water as needed so that the dough comes together.

Divide part ¾ of the dough into a flat disc, do the same with the other ¼, wrap in saran and refrigerate for at least 1 hour.

Use an 9 or 10 inch inch springform pan, using the larger amount of dough for bottom & sides, ¼ for the top.

Fill with the cheese/meat mixture, but don't pack or compress it, nevertheless making sure that there are no air bubbles in the filling.

Bake at 350 degrees for 1½ hours.
Recipe Notes
Here it is!!!!!!!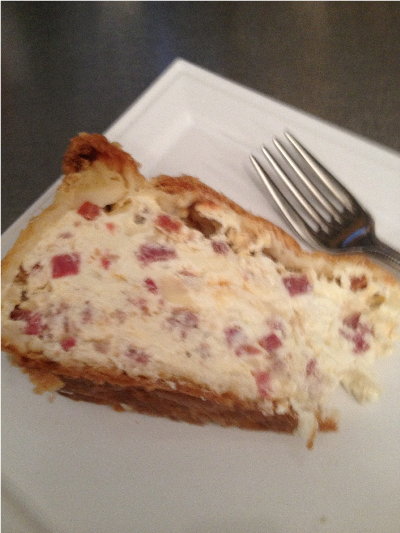 To simplify making the pastry, try this method: Freeze two sticks of butter, and grate them using the largest holes of a box grater, or a large holed Microplane paddle grater. Make sure you flour both sides of the grater, and frequently fluff the flour and the butter to keep it from clumping. I make this in a 10 inch springform pan, but you can make two regular pies with this amount of filling, though you might have to make 1 1/2 times the recipe for the crust. You will have to use additional liquid in the crust, and you can use either wine or water for the additional liquid.
Reviews
Thursday, 14 December 2017
This looks delicious...can\'t wait to try this recipe!
- Dawnmarie223
Thursday, 14 December 2017
would love to have more information about the grating of the butter method for making the pie dough
- econtcher@comcast.net