Welcome to Liguria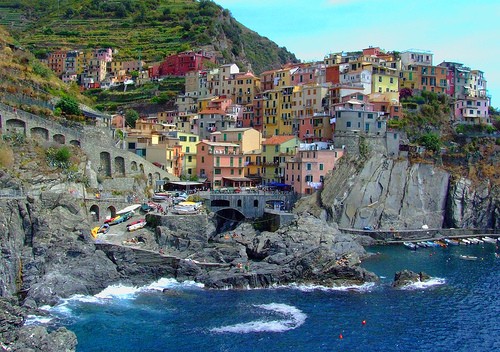 Liguria is a slender coastal arch northwest of Italy, with very beautiful rocky beaches broken off by cliffs. Probably the most beautiful landscape in the north of Italy. The geographical nature of this strip of land makes the climate very mild in winter, just right for the olive trees which give a light olive oil. Sharing the verdand country fields are terrace upon terrace of grapes which begat a very flavorful white wine, the Vermentino. But for Italians, Liguria is the region of San Remo and its rows of flowers.
The capital of this region is the very famous Genova, the birthplace of Cristoforo Colombo, and a very famous port in the northern Mediterranean. Very popular with tourists from all over the world is the Cinque Terre region, a 25 km coastline which comprises of five very characteristic towns, with ancient castles and towers facing a crystalline blue sea, and connected by a very romantic trail, a must for lovers.
Forests and woods host chestnut and pine trees, and in turn, these are the ingredients for the two traditional dishes of Liguria: the chestnut flour used for a "focaccia" which is served as bread and accompanies savory dishes, and the Pinoli nuts, the basis, along with Ligurian basil, for the world renowned Pesto.
Being that the region is on the sea, the cuisine is mainly based on fish, from the delicious crustaceans to the more modest anchovies and blue fish. The choice is vast, as are the recipes. But what is always present is the PESTO, whether as a sauce for Trofie (a home made pasta made of flour and water and shaped like a spiral) or as a dip for your antipasto di mare, so rich in Liguria, with it's marinated fillets, it's polpettine di pesce and it's stuffed mussels.
A nice glass of chilled Vermentino, and some dry biscuits to end the meal. Liguria is not a land of sophisticated food - the crisp freshness and swirling aromas of the main ingredients demand to stand alone.

Sweet Basil - Photo: Marco Bernardini