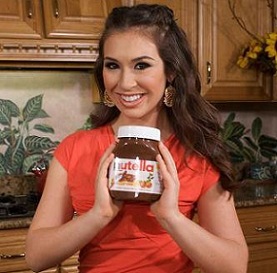 ALAS! It's here! The day of all days! It's National Nutella Day my friends! My favorite substance ever invented.  To me, it is truly the divine food of the Gods.  A glorious, chocolatey velour of hazelnut flavor that reminds me why I love food and why I absolutely LOVED growing up Italian. 

I must say, my love affair with Nutella began rather early.  With both my parents being Italian imports, I wasn't exposed to general american food staples when I was a kid.  Instead of Hershey kisses and peanut butter & jelly sandwiches in my lunchbox, it was Baci and Panino con Nutella! I'm sure I made all the kids at school jealous, although I guess they hid it rather well. 

In the cafeteria I would constantly be plagued with the question "Why are you eating a chocolate sandwich?" and yes, anyone who grew up eating Nutella has ultimately heard a potty reference or two...LAME! My rebuttal usually went something like "Mind your business and eat your Bologna on white bread" (I grew up in Brooklyn and was quite scrappy for a 7 year old). Those kids had no idea what they were talking about. It wasn't their fault that they hadn't been exposed to the wonder that is Nutella, and I forgive all of them...except 5 or 6, but that's a different story.  They're probably all Nutella enthusiasts by now anyway.

As I grew up and became a young woman, Nutella was right there by my side.  When I would spend summers at my aunt's villa in Italy, Nutella would make me feel better when I was homesick, that is if my cousin Nicola hadn't eaten the entire jar before me! Nutella was my companion through my teenage years whenever I was broken hearted.  Nutella has been my ultimate muse for creating desserts that fill everyone's palate's with sheer delight! Yes, I love Nutella and Nutella has loved me back!  

It's my go to dessert ingredient to make just about everything taste decadently wonderful.  Wether it's on a sundae, in a crepe, baked into my fabulous Nutella Chip Cookies or simply spread onto a piece of crusty Italian bread. Nutella never fails to warm my heart and tickle my taste buds with decadent glee. Even if I'm often left with a bit of a tummy ache after eating an entire jar with a coffee spoon, which I don't think I need to tell any of you happens more than I personally care to admit.




Perhaps my FAVORITE thing to do with Nutella is mix it with Marscarpone cheese to get a lighter texture that can be piped beautifully out of a pastry bag, or just by cutting a corner off of a zip plastic bag.  If piping isn't your thing, then grab a knife and start spreading just about anywhere.  Cannoli shells, pie crusts, cupcakes, or even eaten alone as an interesting variation on a plain chocolate mousse.  I literally never get bored of Nutella!  I hope to keep adding to my Nutella repertoire, but to tide everyone over I've been combining some of my existing recipe's.  Spread the Nutella Marscarpone Mousse between two of my Nutella Chip Cookies to create an insanely rich Whoopie Pie! Or simply take your favorite Gelato or ice cream and use the Nutella Chip Cookies to create a colossal ice cream sandwich that is to die for!!

But I'm sure most of you are wondering how Rossella Rago celebrates National Nutella Day.  What crazy Nutella concoction do I choose to indulge in on this grand holiday? For me, it's about going back to my roots.  I 'll be having my classic toasted Panino con Nutella, just like Mamma Angela used to make me almost every day for lunch.  Sometimes, the beauty is in the simplicity of things.  I have some of the best childhood food memories because of Nutella, and I know I'm not alone!

 
Enjoy these Nutella Recipes... Buona Giornata!