Baked Macaroni & Cheese in Prosciutto Cups
Baked Macaroni and Cheese in Prosciutto Cups... perfect for any party and especially your Super Bowl party!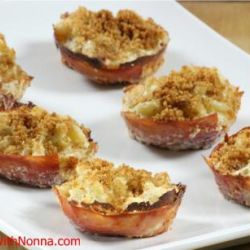 Ingredients
For 12 Person(s)
For the Pasta:
1/2

pound

small Elbow Macaroni

6

slices Prosciutto (try and have it sliced slightly on the thicker side)

1

cup

provolone cheese

1

cup

fresh mozzarella

1 1/4

cups

cups whole milk

2

tablespoons

butter

2 1/2

tablespoons

all purpose flour

1/2

cup

plain breadcrumbs

2

tablespoons

extra virgin olive oil

1/4

cup

pasta cooking water

salt & black pepper to taste
Directions
Preheat oven to 350 degrees

Combine the oil and breadcrumbs in a saucepan and toast over moderate heat. Remove from the flame and set aside.

Cut the six prosciutto slices in half so you have 12 squares. Position them in a muffin pan and up the sides of the pan as well. Set aside.

Shred both cheeses with a cheese grater and set aside.

Drop the pasta in the salted boiling water.

While the pasta is cooking melt the butter in a large sauté pan and add the flour. Whisk until all the flour is absorbed and the mixture begins to darken in color.

Ad in the milk and whisk until the mixture has thickened. About 5 minutes.

Cook the pasta until slightly harder than al dente. Reserve 1/4 Cup pasta water and drain.

Add the pasta water, provolone and mozzarella and stir with a wooden spoon until melted. Add the pasta, salt and plenty of fresh pepper. Stir until all the pasta is evenly coated.

Remove from heat and fill the prosciutto cups with the pasta mixture. Top with the toasted bread crumbs and bake for 25-30 minutes until the the cheese is bubbling on the sides.

Cool about 5-10 minutes out of the oven before moving them. Run a knife around the edges and lift out with a spoon. Serve immediately.
Reviews
Thursday, 30 January 2020
I wanted to express some love for this recipe. I tried it on a dreary winter day and it provided in...
See Full Review >>
- RAD