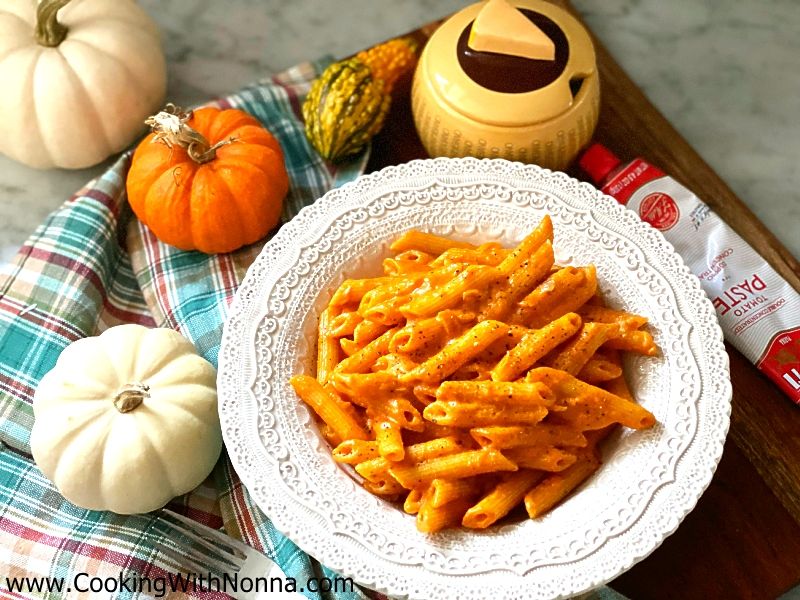 Ingredients
For 4 Person(s)
For the Pasta:
2

tablespoons

extra virgin olive oil

2

shallots, cut into a 1/4 inch dice

2

garlic cloves, minced

1/4

teaspoon

red pepper flakes

3

tablespoons

tomato paste

1/4

cup

vodka

1

cup

canned pumpkin

1

cup

heavy cream

1

teaspoon

salt

1/4

teaspoon

black pepper

1

pound

dried penne pasta

1/2

cup

parmigiano reggiano cheese
Directions
Get the Products/Ingredients needed for this recipe

HERE

Put a large skillet over a medium flame and heat the oil. Add the shallots, garlic and red pepper flakes. Sauté until the shallots have softened, about 5 minutes.

Add the tomato paste and cook until incorporated, about 2 minutes.

Add the vodka and cook for 1 minute or until you can no longer smell alcohol.

Add the pumpkin and cook until we'll incorporated.

Stir in the cream, salt and pepper and bring to a simmer.

Drop the pasta into generously salted boiling water. Cook for 2 minutes less than the package instructions.

Drain and reserve 1/4 cup of pasta water. Add the pasta and the reserved water to the pan. Toss over medium-high heat for 1-2 minutes or until the Sauce thickens slightly.

Turn off the heat and stir in the cheese, allowing the residual heat of the pan to melt the cheese.

Serve with more black pepper and another sprinkle of grated cheese.