Struffoli di Aquilonia
Struffoli di Aquilonia (Avellino) an easy and delicious treat from Campania for Christmas.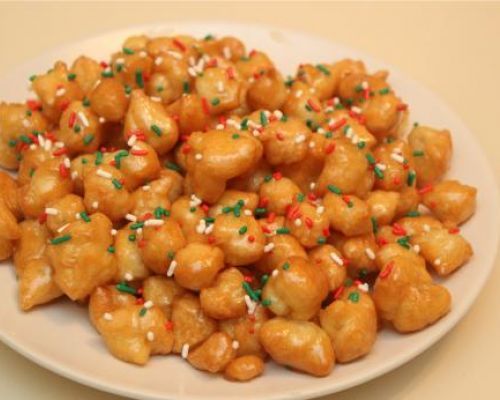 Ingredients
For 1 Batch(es)
For the Struffoli:
1

large egg

1/2

cup

all purpose flour

1

teaspoon

olive oil

1

tablespoon

powdered sugar

2

ounces

honey

colored sprinkles

oil for frying
Directions
Beat the egg and mix it with 1 Tsp of olive oil, the powdered sugar and the flour.

Mix well to form a small ball of dough.

Wrap in plastic paper and let it rest for about 20 mins.

Take a piece of dough, roll it on a wooden board into a long round strip and with a knife cut it in small Struffoli of just less that 1/2 inch. Preferably roll them into small balls.

Once all the Struffoli are made, fry all of them in oil.

Put the honey in a flat pan, warm it up so that it becomes very liquid and toss the Struffoli in the honey.

Fold the Struffoli until they are all coated with honey. Plate them and sprinkle them with colored sprinkles.
Reviews
Thursday, 14 December 2017
Sorry!!!!! The Sugar correction has been made! :)
- rossella rago
Thursday, 08 September 2016
No indication on powder sugar when to add
- sandyeng
Thursday, 08 September 2016
And the sugar???
- Debbpic