A few days ago, I decided to crack open one of my two Italian trunks and live a little.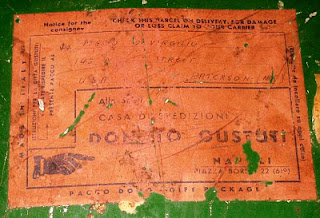 Shipping Tag - Naples to New York
I have been married 44 years and have owned this crochet bedspread for 50 years or more. It was part of my trousseau (corredo) together with other treasurables.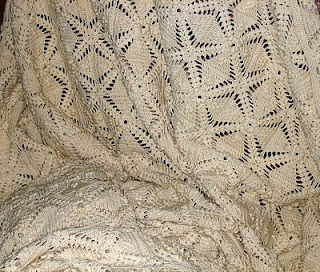 Crochet Bedspread - Copriletto all'Uncinetto
It took my mother 5 years to complete this bedspread utilizing many summer afternoons, skilled hands and lot of ecru thread... a lot of work... and a lot of love. When I got married, I found the bedspread to be old fashioned, fussy and not useful. Not practical but yet very pretty. And really, it's a treasure. An heirloom practically and too good to use every day. So, I have never used it. I decided to save it for a really special occasion.
The years went by. My husband and I moved from a double bed, to a queen sized bed, to a king. Children were born. More years go by. Lots of them. The children moved out and married. My mother is no longer here.
More years go by. Until, finally last week, getting ready for very special houseguests - I decided to use the crochet bedspread. It has been waiting fifty years for my Real Life to begin.

 Thank You for reading! Please leave a comment and Share! :)