When looking for a hotel in Florence, you may want to look down river for a little gem.
Normally when I stay in Florence I stay in one of the hotels in the centre of the city but this time I thought why not stay a little further out, I had a car and it would be easier to park outside of the heart of the centro storico (historical centre).
Looking on the internet I found just the place I was looking for, a restored water mill just a few minutes down the River Arno but a million miles from al the hustle and bustle that I was trying to get away from. I had business in Florence and as I had been there many times before I really wasn't interested in staying in one of the 'tourist' hotels.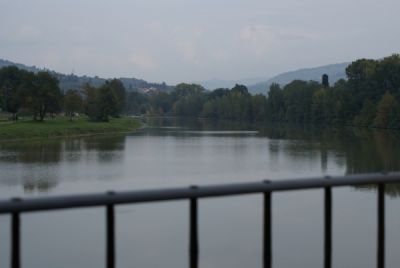 Il Mulino di Firenze is an old water mill that you to serve Florence centuries ago. I suspect it used to grind the grain for bread as it is close to where fields of gain used to be. It has been completely renovated and is now a cheerful hotel full of memorabilia from all over Florence. It is a resort style hotel offering a swimming pool and luxurious rooms yet the cost per night was considerably less than I usually pay in the heart of Florence. It position on the very edge of the river, with the rooms actually hanging over the river three metres below so that you feel as if you are in a boat, makes it quite unique for Florence.
If you want something that makes you feel as if you're on solid ground there are rooms in the courtyard as well as rooms upstairs but I really loved the feeling of being outside while in the comfort of my room, of having the French doors open at night and a soft breeze floating in the window. Obviously you would have to rethink this if it was cold weather but the views from the window would still capture your imagination.
In the mornings you could see joggers running along the path on the opposite side of the river, later in the day fisherman would set up their gear and sit on stools talking to each other. In the evening people would walk their dogs, it was an ever changing panorama that you could watch from behind the gossamer curtains.
The only thing that was off putting but fortunately I could see the funny side of it was that they don't serve dinner on the Sunday night. This is fine if you're prepared to take a taxi back into Florence (about €8) but I must have been there when several guests had tightly closed wallets because they had to give them sandwiches in the games room. It was laughable as all these well dressed people all knuckled down and had a picnic with sandwiches and wine! The restaurant isn't free so they would have had to pay anyway so I can't see the difference in going into the city.
The hotel offers a shuttle bus if you want to go into town but it doesn't operate on Sunday nights either.
The rooms are beautifully furnished and very quiet. It has a massive parking garage and porters to help with the luggage. The surrounds are lovely and there is a small town on the way into Florence with a restaurant if you want to dine somewhere a bit more rustic. The bathrooms have power showers and there is plenty of hanging space in the wardrobes. Another plus is that it was absolutely clean, something I am particular about when staying in hotels.
I enjoyed my time at the hotel immensely and I would recommend it to anyone who likes to stay somewhere that's a little bit different.