Pasta with Sardines - Pasta con Sarde
Pasta with Sarde... perhaps the best known Sicilian dish around the world!
Ingredients
For 2 Person(s)
For the Pasta:
1/2

pound

Bucatini pasta

1/2

cup

chopped tomatoes

2

medium sized sardines (Remove head and bones)

4

fillets of anchovies in oil

1/2

pound

fennel leaves

2

tablespoons

pinoli (pine nuts)

2

tablespoons

currants

1

medium onion

2

cloves of garlic

parsley

fresh pepper

1

teaspoon

saffron

extra virgin olive oil
Directions
Put the bucatini to cook in boiling water.

In a pot of water put to boil the fennel leaves cut in 3 parts.

In a saute` pan, saute` the chopped onion and garlic in olive oil.

As the garlic turns blonde add the sardines and the anchovies. Break up the sardines and the anchovies with a wooden spoon in large chuncks.

After 3 minutes add the currants and the pignoli.

Saute` for 1 minute and add the chopped tomatoes.

Remove the fennel leaves from the hot water, chop into small pieces and add into the saute` pan.

In a pot with 2 cups of hot water add the saffron and let it melt. This water will be used to color the bucatini.

Drain the bucatini and put back into the pot. Pour the saffron water and stir for a few seconds. Drain the bucatini again and pour in a serving bowl.

Pour the sarde sauce over the bucatini. Garnish with fresh parsley and serve.
The Cooking with Nonna Cookbook
Put one under every Christmas Tree!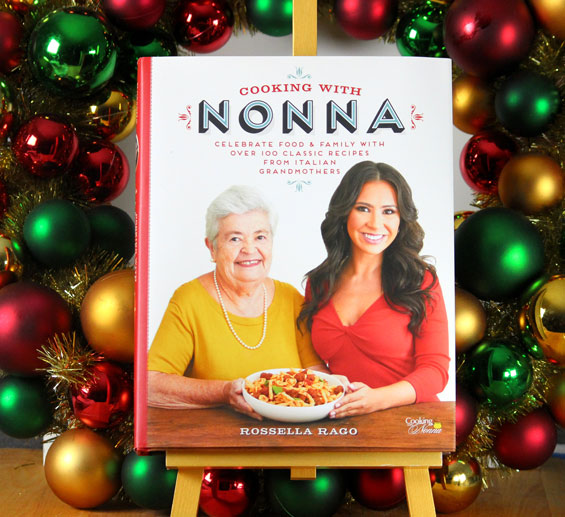 Recipe Notes
PS: You can also garnish the bucatini with toasted bread crumbs
Reviews
Thursday, 08 September 2016
Sarde are not my favorite but it is very good.
- tlen
Thursday, 08 September 2016
4 pots from me.. This looks great, just like when I was young. I will try it soon.. thx so much. :)
- joelabianca