Short Rib Soup with Butternut Squash, Kale & Farro
Short Rib Soup with Butternut Squash, Kale & Farro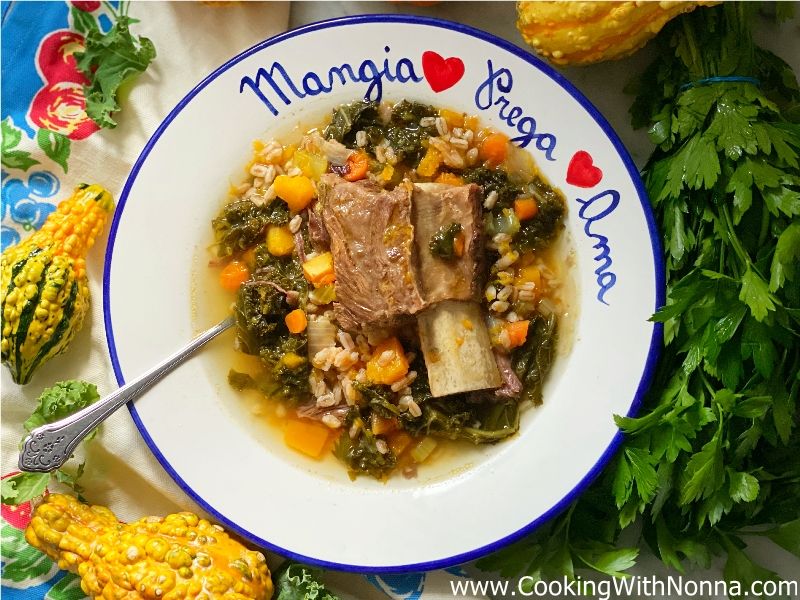 Ingredients
For 6 Person(s)
For the Soup:
2 1/2

pounds

beef short ribs

18

cups

water

20

ounces

Butternut Squash, cut into 1-2 inch chunks

1/2

cup

carrots cut into a ¼ inch dice

1/4

cup

onion cut into a ¼ inch dice

2

plum tomatoes cut into a 1 inch dice

1/2

cup

stalks of celery cut into a ½ inch dice and a few leaves

8

ounces

Kale, torn into bite size pieces

3

tablespoons

extra virgin olive oil

1

tablespoon

salt

2

bay leaves

1 1/2

cups

Farro
Directions
Get the Products/Ingredients need for this recipe

HERE

Trim the excess fat off of the short ribs with a knife and set aside.

Put a large 6 quart stock pot over a high flame add the water and short ribs and bring to a boil.

Skim any foam that floats to the surface with a spoon and discard.

Once boiling add in the squash, carrots, onions, celery, kale, oil, salt and the bay leaves. Turn the flame down to medium and cook stirring occasionally until the meat is tender and begins to separate from the bone, about 1 hour and 30 minutes to 2 hours.

When the soup has about 20 minutes to go, bring 4 cups of lightly salted water to a boil in a separate pot. Add in the farro and cook until tender. About 20-25 minutes.
Drain the farro and add it to the pot. Ladle the soup into warm bowls and serve with crust bread and a sprinkle of grated Parmigiano cheese.