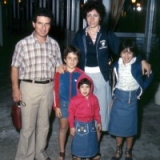 TonyDac
My Golden Pots:

My Nonna Points:
10
Member of La Famiglia since:
01/31/2013
Male Nonno Pretty Good!

TonyDac
has a new avatar.
7 months ago

rossella rago
Once you login you will be in your Profile page. Look for the Tab next to about me that says: My Favorite Recipes.
2 years ago