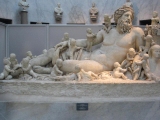 Zingida
My Golden Pots:

My Nonna Points:
31
Member of La Famiglia since:
06/09/2012
Female Daughter Can cook like a Nonna!
Congratulations on your marriage...many,many,many years of love and happiness...


Zingida
shared a photo.
5 years ago
Today I am baking Christmas cookies and listening to Italian music..Life doesn't get any better than this..I am in heaven right now

Zingida
They had a strong liquor taste when we tried one but then we left them in the fridge and let them rest and the taste calmed down a little. they are Awesome!!
6 years ago



Zingida
getting ready to make them today...Thank you Rossella..I will post when they are done..

6 years ago


{actor} There is only 2 things that are important..1 is family and 2 is being Italian