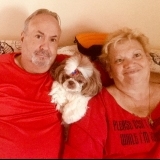 elenajo1959
My Golden Pots:

My Nonna Points:
25
Member of La Famiglia since:
12/05/2014
Female Daughter Can cook like a Nonna!
Good Evening
I made your pizza Rustica, it came absolutely delicious ? I wish my momma Joyce was here to enjoy it she passed away from the COVID virus on January 18th, she loved my cooking and baking....

{actor} uploaded a new avatar