Chocolate Chiacchiere Recipe
Chocolate Chiacchiere Recipe. Celebrate Carnevale with plenty of Chiacchiere!!!!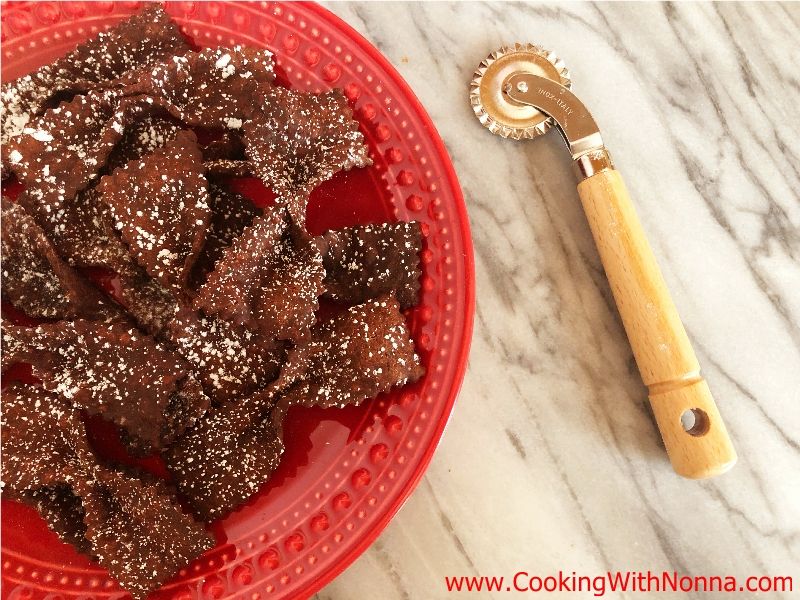 Ingredients
For 4 Dozen(s)
For the Chiacchiere:
1 1/2

cups

00 or all purpose flour

2/3

cup

+ 2 tablespoons unsweetened cocoa powder

1/4

cup

+ 2 tablespoons granulated sugar

2

Large eggs, room temperature

5

tablespoons

whole milk

2

tablespoons

butter, melted

2

tablespoons

rum

1

orange, zest only

pinch of salt

oil for frying

Confectioners Sugar for dusting
Directions
In a large mixing bowl, sift together the flour, cocoa and sugar.

Make a well and add in the eggs. Whisk with a fork until blended.

Add in the milk, rum, zest and salt and begin to knead with your hands until a supple dough forms. If the dough is dry add 1 tablespoon of milk. If the dough is too soft add a sprinkle of flour.

Wrap the dough in plastic wrap and rest for 10 minutes at room temperature.

On a floured work surface, roll the dough out as thin as possible. Using a ravioli cutter, cut out rectangles about 3 inches long and 1 1/2 inches thick.

Dab the centers of the rectangles with a bit of water and pinch down to make a bow shape.

Heat about 2 inches of oil and fry in batches until the chiacchiere are crisp, about 30 seconds to one minute. Do not overlook. Transfer to a paper towel lined plate and dust with confectioners sugar.