Gelatina di Espresso
This really is one of my favorite desserts, especially when I am looking for an elegant conclusion to an evening meal. Gelatina di Espresso serves up the full bodied taste and bitter edge of espresso cloaked in a tender gelatin and topped with a dollop of vanilla scented whipped cream.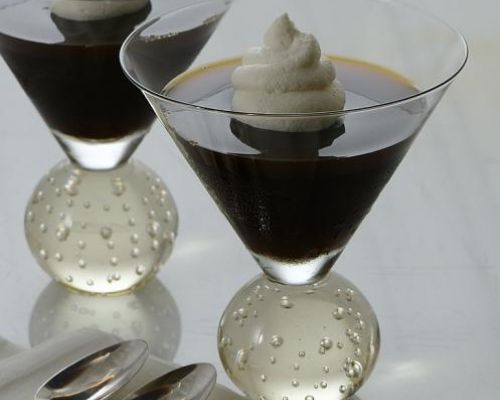 Ingredients
For 4 Person(s)
Recipe
1

envelope (1/4 oz.) KNOX Unflavored Gelatine

2

tablespoons

cold water

2

cups

hot espresso

3

tablespoons

granulated sugar

1

cup

heavy cream

1

teaspoon

granulated sugar

1/2

teaspoon

vanilla extract

bittersweet or semi-sweet chocolate shavings, if desired
Directions
While espresso brews, pour 2 tablespoons cold water in medium bowl and sprinkle gelatin over.

Set aside to bloom (soften) for 5 minutes.

When espresso has brewed and gelatin has softened, pour 2 cups (16 oz.) hot espresso over gelatin mixture and stir to combine and melt gelatin.

Add sugar, a tablespoon at a time until desired degree of sweetness is achieved.

Keep in mind you will eat this cold, so a little extra sugar may be necessary no matter how perfect the sweetness level seems when you first try it.

Place bowl over ice water bath, stirring occasionally to promote even cooling.

Pour mixture into serving glasses and refrigerate until set, 2 hours or overnight.

Beat heavy cream with sugar and vanilla.

To serve, place a dollop of whipped cream on each serving of gelatin.
Recipe Notes
Don't be put off by the idea of using gelatin. Proper use of gelatin consists of two steps: bloom (or soften) and dissolve. To bloom the gelatin place a few tablespoons of liquid in a small bowl and sprinkle the gelatin over it. The gelatin will swell. Allow it to bloom for five minutes. To dissolve the gelatin you can either pour the bloomed gelatin into a hot liquid and stir it until it dissolves or place the bowl containing the bloomed gelatin in a pan containing a shallow amount of simmering water. If you elect this method, just be sure the water in the pan does not get into the gelatin while you stir it as it dissolves. If you are feeling particularly playful, rather than serving this dessert in traditional wine glasses or coupe dishes, use coffee cups or espresso cups. The whimsical touch will delight your guests and guarantee smiles all around. If you wish, you may finish the gelatina with a few bittersweet or semi-sweet chocolate shavings.
Categories:
Dessert & Cookie Recipes
,
Easy Recipes
,
All Recipes
,
Christmas Recipes
,
Thanksgiving Recipes
,
Easter Recipes
,
Valentine's Day Recipes
,
Super Bowl Recipes
,
Passover Recipes
,
Mother's Day Recipes
,
Father's Day Recipes
,
Memorial Day Recipes
,
4th July Recipes
,
Labor Day Recipes
,
Easter Cakes and Cookies
,
Valentine's Cake and Cookie Recipes
,
Custard, Pudding and Mousses
,
Summer Dessert Recipes
,
Thanksgiving Dessert Recipes
,
Coffee Recipes