Chocolate Pan di Spagna with Espresso Glaze
Pan di Spagna, genoise, or plain old sponge cake. Whatever you called it growing up when it's done right it can be one of the most beautiful, pillowy cakes you ever taste. Although some may argue they can be bland I feel that they make for the most perfect springy layers that can hold delicious liqueurs for soaking or rich creams. My Nonna Romana has been making plain (Vanilla) Pan di Spagna for as long as I can remember. I thought I would tweak her recipe with a little cocoa powder and a smooth, decadent espresso glaze, because Chocolate and coffee are absolutely perfect together! A true pan di Spagna contains no baking powder and is leavened only with beaten eggs. Corn or potato starch lighten up the flour when sifted together and all the dry ingredients must be very gently folded into the eggs and sugar or you risk deflating everything and having a tough cake. There will be moments when you feel like dumping all the dry ingredients in at once but hang in there! The end result will be wonderful!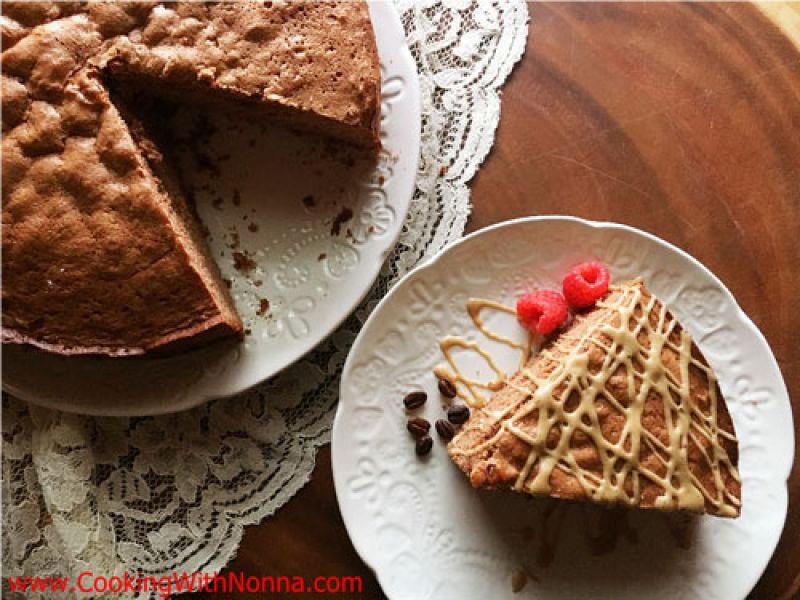 Ingredients
For 8 Person(s)
For the Cake:
6

large eggs, room temperature

1 1/2

cups

granulated sugar

3/4

cup

00 flour or all purpose

3/4

cup

cornstarch

1/4

cup

unsweetened cocoa powder

4

ounces

unsalted butter, melted and cooled to room temperature
For the Glaze:
1 1/4

cup

confectioners sugar

2

tablespoons

brewed espresso

1

tablespoon

heavy cream

1/4

teaspoon

ground espresso
Directions
For the Cake:

Preheat your oven to 350 degrees.

Grease a 9 inch springform pan with butter or baking spray. Set aside.

In the bowl of a stand mixer fitted with the paddle attachment combine the eggs and sugar and beat on high speed until ribbons form, about 15-20 minutes.

Meanwhile in a mixing bowl sift the flour, cornstarch and cocoa powder at least 3 times.

Sift the dry ingredients over the top of the eggs a little bit at a time and fold in very carefully until all the dry ingredients are fully incorporated.

Once all the dry ingredients and folded into the eggs take one full cup of the batter and mix it into the melted butter. Once combined fold the mixture into the remaining batter.

Pour into the prepared pan and bake for 40 minutes or until the center is springy.

Cool completely before glazing.

For the Glaze:

In a mixing bowl whisk together the confectioners sugar, espresso coffee, espresso powder and heavy cream until smooth. You can make the glaze as thin or as thick as you like by adding more or less heavy cream. Drizzle over cake and serve.