Lemon Drop Cookies - Anginetti
Lemon Drop Cookies or Anginetti are the perfect cookies for all holidays and all special occasions.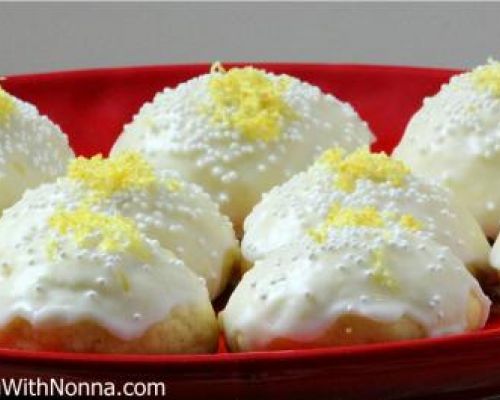 Ingredients
For 2 Dozen(s)
For the Cookies:
2

cups

all purpose flour

1/2

teaspoons

baking powder

1

pinch of salt

1/4

cup

vegetable shortening

1/2

cup

granulated sugar

of one Lemon

1 1/2

teaspoons

lemon extract

3

large eggs

2

tablespoons

heavy cream
For the Icing:
1

cup

confectioners sugar

1

teaspoon

lemon extract

1

teaspoon

water, add more iff needed
Now Available:
La Grande Famiglia Pasta Pack
with
FREE Shipping!
Get it HERE!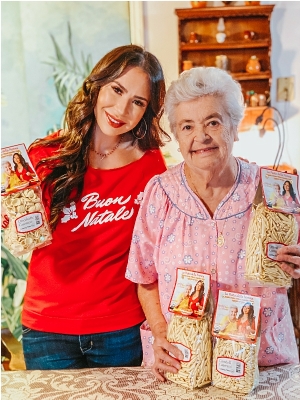 Directions
Combine the confectioners sugar and extract and mix in the water a tablespoon at a time until you reach your desired consistency. I like mine to be slightly thicker than heavy cream.

Preheat oven to 350 Degrees

In a bowl whisk together flour, baking powder and salt. Set aside.

In a stand mixer or with an electric mixer combine shortening, sugar and zest and beat until fluffy.

Add the eggs one at a time mixing well after each addition and scraping down the sides of the bowl if necessary. Add the extract and mix well.

Add the dry ingredients and mix until mixture starts to form a dough. Add the heavy cream and mix until just absorbed. Do not over mix.

Dough should be slightly sticky, but you should still be able to roll it into balls. You can also use an ice cream scoop.

Transfer to a wire rack and cool completely before frosting. Decorate with sprinkles!
Categories:
Dessert & Cookie Recipes
,
Baking with Rossella
,
All Recipes
,
Christmas Recipes
,
Thanksgiving Recipes
,
Easter Recipes
,
Valentine's Day Recipes
,
Mother's Day Recipes
,
Father's Day Recipes
,
Christmas Cookies Recipes
,
Easter Cakes and Cookies
,
Valentine's Cake and Cookie Recipes
,
Cookies Recipes
,
Thanksgiving Dessert Recipes
Reviews
Tuesday, 16 July 2019
these look delicious..but i think the recipe measurements are messed up or cut off on the left...
- artyjudy1
Thursday, 14 December 2017
Just like Nonna used to make!
- nyc teamster