Italian Easter Egg Cookies
I started this tradition with my daughter when she younger as she loved to decorate the egg shaped cookies. It is not Easter in our house without the Easter Egg Cookies.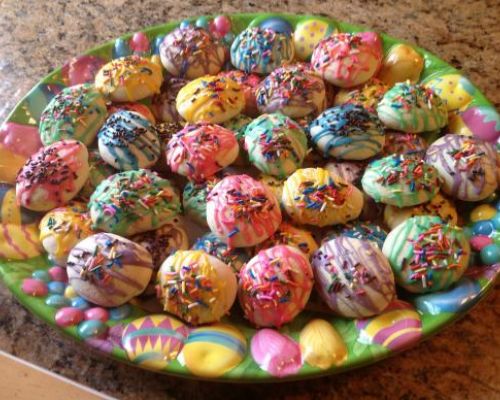 Ingredients
For 3 Dozen(s)
For the Cookies:
1/2

cup

butter (room temperature)

3/4

cup

sugar

3

large eggs

1 1/2

teaspoons

vanilla extract

1

teaspoon

almond extract

1/4

cup

milk

1/4

cup

canola oil

3 3/4

cup

all purpose flour

5

teaspoons

baking powder

pinch of salt
For the Glaze:
4

cups

powdered sugar

1

teaspoon

vanilla extract

1

teaspoon

almond extract

3

tablespoons

milk, add more if needed

food coloring

candy rainbow sprinkles (colored or chocolate, we use both)
Directions
Preheat oven to 350 degrees line cookie sheets with parchment paper lightly sprayed with butter cooking spray

in large bowl cream together sugar and butter until light & fluffy

Beat the eggs in one at time mixing well after each egg

Add vanilla and almond extract then milk and oil

Combined flour and baking powder, pinch of salt begin to add this to creamed mixture. Mix this very well ( I use the hand mixer beaters until very end of adding flour as mixture becomes thick)

Using a teaspoon to scoop dough and shape into egg form. (My daughter prefers to roll into a ball and with palm of her hands flatten to egg shape)

Place on greased parchment lined cookie sheets and bake for 9-10 minutes ( I look for mine to be lightly golden on bottom..cookies will be soft) *cookies must be cooled before glaze can be applied*

Colored glaze... mix powdered sugar, almond,vanilla extracts and milk... stir until glaze is smooth (you may need more milk or more powdered sugar to achieve right consistency ) once glaze is mixed divide into 4 bowls and add food coloring to each bowl the color of your choice. ( my daughter LOVES purple... so we mix equal parts red and blue food coloring)

When cookies are cooled completed place on parchment paper and with spoon drizzle colored glaze onto cookie and sprinkle with rainbow or chocolate sprinkles.
Reviews
Tuesday, 06 April 2021
I made these cookies for Easter & thought it would be easier to color the dough in 4 colors inst...
See Full Review >>
- cass538
Tuesday, 11 December 2018
Everyone loved these cookies so much, I've made them again & again throughout the year!
- MrsBritton
Friday, 30 March 2018
I haven't made these yet. They look soo good! But it looks like the cookie itself is colored with f...
See Full Review >>
- yourmomma
Thursday, 14 December 2017
I love your cookie recipe! Your creativity screams Happy Easter and Happy Spring. BTW, your beauti...
See Full Review >>
- logan62
Thursday, 14 December 2017
loved this recipe! tried it out with my kids and it was wonderful! xo
- brittanyambro
Thursday, 14 December 2017
Excellent presentation and taste. The bimbas are going to love these. Thank you for sharing!!!
- NonnaLinda
Thursday, 14 December 2017
This is a great idea. I am going to make these with my grandson, I'm sure he will love them.
- Naplesfrank3
Thursday, 14 December 2017
going to try these, but I am going to make them with fresh ricotta and decorate them with the easter...
See Full Review >>
- MiaPicina
Thursday, 14 December 2017
Delicious!
- cmcarpit