Linguine with Shrimp and Olives in White Wine Sauce
Linguine with Shrimp and Olives in White Wine Sauce.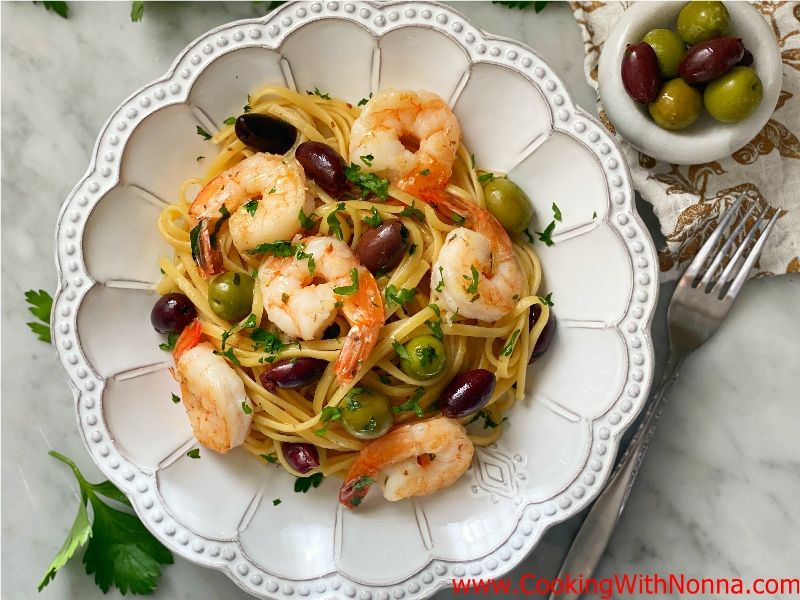 Ingredients
For 4 Person(s)
For the Pasta:
1/4

cup

extra virgin olive oil

1 1/2

pounds

jumbo shrimp, deveined

6

cloves garlic, sliced

1/4

teaspoon

red pepper flakes

1

cup

gaeta olives

1

cup

castelvetrano olives

1

cup

dry white wine, such as pinot grigio

1/2

cup

fresh parsley, chopped

1

pound

dried linguine
Directions
Get the Products/Ingredients you need for this Recipe:

HERE!

Put a large skillet over a high flame and heat the oil. Add the shrimp to the pan in batches and sear them for 1-2 minutes on each side. You don't need to fully cook them, you just want them to develop some color.

*do not crowd the pan with shrimp. If needed, brown them in 2 batches.

Transfer the browned shrimp to a plate. Set aside.

If the pan looks dry, add another drizzle of oil. Lower the flame to medium and add the garlic and red pepper flakes to the pan. Cook for 1 minute or until the garlic has begun to slightly brown.

Drop the pasta into generously salted boiling water. Cook for half the time of the package instructions.

Add the olives to the pan and cook for 30 seconds. Add in the wine and scrape up any bits that have stuck to the pan. Reduce for 1 minute.

Scoop out 2 cups of the pasta water and add it to the pan with the olives. Scoop out the pasta and add it to the pan along with the shrimp. Cook until the pasta is al dente and has absorbed most of the liquid. If the pan gets dry, add another 1/2 cup of pasta water.

Add another sprinkle of fresh parsley and serve.