Pasta with Asparagus - Strangozzi con Asparagi Selvatici
Strangozzi Pasta with wild asparagus sauce.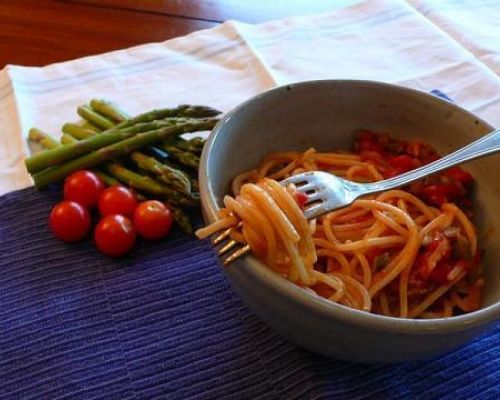 Ingredients
For 4 Person(s)
For the Pasta:
1

pound

wild asparagus, the thinner the better. If they are not wild use the best you can find at your local grocer.

1

pound

Strangozzi or any other pasta you desire

1

pound

peeled tomatoes

1/2

onion finely chopped

1

clove of garlic finely chopped

5

small sprigs of fresh thyme

2

leaves of fresh basil

1/4

cup

extra virgin olive oil

salt & pepper
Now Available:
La Grande Famiglia Pasta Pack
with
FREE Shipping!
Get it HERE!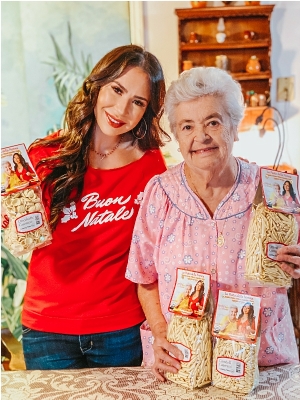 Directions
Cut the asparagus in very small sticks about 2 inches long.

Saute` the asparagus in olive oil and garlic for a few minutes.

In a separate pot, saute` the onion and then add the peeled tomatoes (cut in small pieces, include the tomato juices) and the basil.

Cook for 40 mins. at medium heat with the pot covered.

If the sauces dries up, add some vegetable stock.

Salt and pepper as desired.

Add the asparagus and the fresh thyme.

Pour over the strangozzi pasta cooked al dente.
Categories:
Nonna Maria Elisa Borghini
,
First Course Recipes
,
Italian Pasta Recipes
,
Umbria Recipes
,
Easy Recipes
,
All Recipes
,
Valentine's Day Recipes
,
Asparagus Recipes
,
Mother's Day Recipes
,
Father's Day Recipes
,
Memorial Day Recipes
,
Easy Pasta Recipes
,
Vegetarian First Course Recipes
,
Vegan First Course Recipes
,
Mediterranean Diet First Course Recipes
Reviews
Tuesday, 12 December 2017
This is a very easy one to prepare and just right I love this one!!!
- Roccorob