Soft Easter Brioche Breads
Soft Easter Brioche Breads.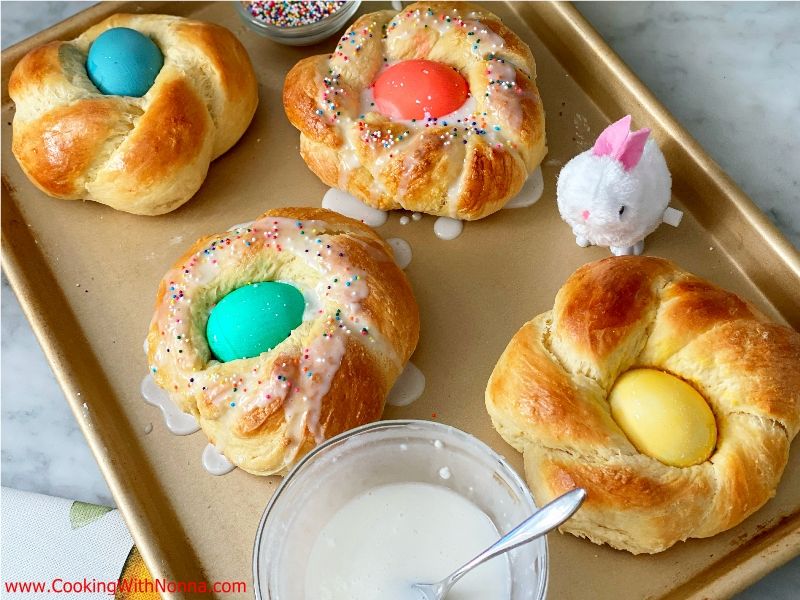 Ingredients
For 1 Batch(es)
For the Brioche:
2/3

cup

whole milk

one packet active dry yeast

1/2

cup

granulated sugar, divided

2 3/4

cups

all purpose or 00 flour, plus more for dusting

1

teaspoon

salt

2

large eggs, at room temperature

3

tablespoons

unsalted butter, at room temperature

2

teaspoons

anise extract

olive oil for coating the bowl

4

large eggs, dyed (not hard boiled)
For the Topping:
For the Glaze:
1

cup

confectioners sugar

2

tablespoons

whole milk

1/2

teaspoon

anise extract

rainbow nonpareils for decorating
Directions
Yield: 4 Brioches

Get the products you need for this recipe

HERE!

To make the bread:

Line a baking sheet with parchment paper. Set aside.
In a small sauce pan over low heat, warm the milk until it is lukewarm. Pour into a small bowl and stir the yeast and 1 teaspoon of granulated sugar. Let stand until the mixture bubbles, about 10 minutes.
In a large bowl, combine the flour remaining granulated sugar, and salt. Whisk to combine. Make a well in the dry ingredients and slowly pour the milk mixture into it, gently stirring.
Add the eggs, butter, and extract. Mix with your hands until a dough begins to come together. Generously flour a work surface and turn the dough out onto it. Knead the dough by hand until it is smooth and elastic. The dough should be soft and a little sticky. Shape the dough into a ball. Lightly coat a bowl with olive oil and place the dough ball in it. Cover the bowl with plastic wrap and let rise in a warm place until doubled in size, about one hour and 30 minutes.
Generously flour a work surface and transfer the risen dough to it, dividing it in half. Cover the dough with a clean kitchen towel and let rest for 15 minutes. Divide the dough into 4 equal pieces.
Take one of the 4 pieces of dough and divide it in two. Roll each of the two pieces into a rope about 10 inches long. Intertwine the two ropes loosely and shape into a ring, pressing the ends together firmly. Repeat with the remaining dough forming 4 separate rings
Place a dyed egg in the center of each ring. Place the rings on the prepared baking sheet and cover with a clean kitchen towel. Let rise for 45 minutes.
After 30 minutes, preheat the oven to 350 degrees.
Just before baking, brush the top of the bread with the beaten egg yolks taking care to not brush the eggs. Bake for 20-25 minutes or until each ring is golden brown. Cool completely before glazing.

To make the glaze:

In a small bowl whisk together all the glaze ingredients. Drizzle over the rings and top with rainbow nonpareils.