Spaghetti with Sausage Meatballs
Spaghetti with Sausage Meatballs.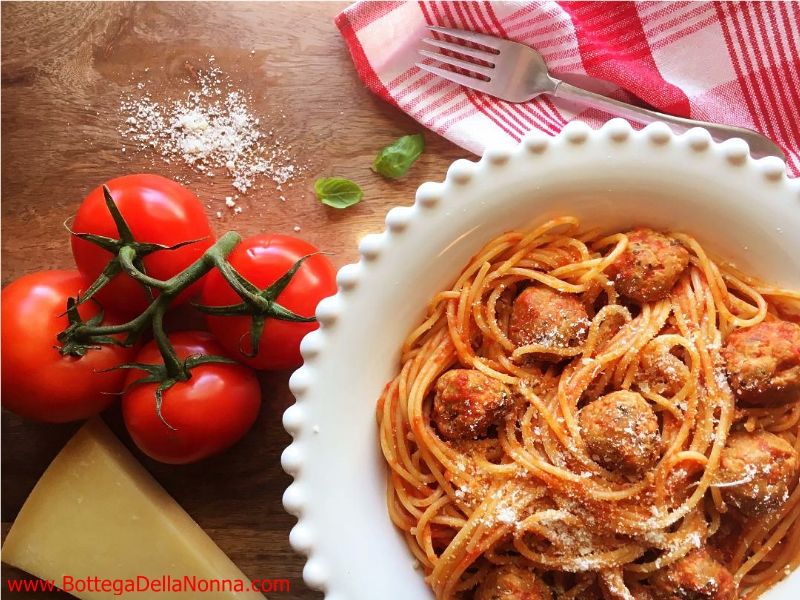 Ingredients
For 4 Person(s)
For the Meatballs:
1

pound

sweet Italian sausage meat, casings removed

1

cup

grated Pecorino Romano cheese

1

cup

grated Parmigiano Reggiano cheese

2

garlic cloves, grated

2

tablespoons

fresh basil, finely minced

3

extra virgin olive oil
For the Sauce:
1

28 oz can peeled tomatoes, pureed by a blender

2

garlic cloves, sliced

1/2

cup

water

1/2

teaspoon

salt

3

fresh basil leaves, torn

1

pound

spaghetti

1/2

cup

grated Parmigiano Reggiano cheese to serve
Try La Pasta della Nonna in
La Grande Famiglia Pasta Pack
with
FREE Shipping!
Get it HERE!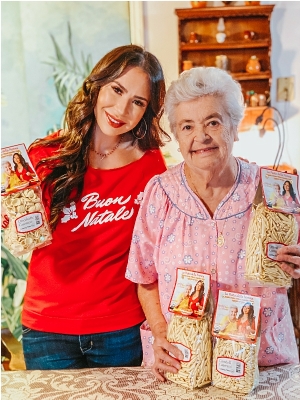 Directions
To make the meatballs:

In a mixing bowl combine the sausage, cheese, garlic and basil and mix together until combined. Shape into 24 meatballs and transfer to a plate.
Put a large saute pan over a medium high flame and heat the oil. Add the meatballs to the pan and cook until browned on all sides, about 7-8 minutes. Transfer to a plate and set aside.

To make the sauce:

In the same pan add the garlic and saute until golden, about 1 minute. Add the pureed tomatoes, water, salt and basil and meatballs to the pan. Lower the heat to a simmer and cover. Cook for 15-20 minutes while stirring occasionally with a wooden spoon.
Bring a pot of generously salted water to a boil. Drop the spaghetti in and cook until al dente. Drain and add to the pan with the sauce. Toss for 1-2 minutes over medium heat. Serve in warm bowls sprinkled with grated parmigiano reggiano cheese.