Stuffed Shells with Mushrooms, Speck and Bechamel
Stuffed Shells with Mushrooms and Speck and Bechamel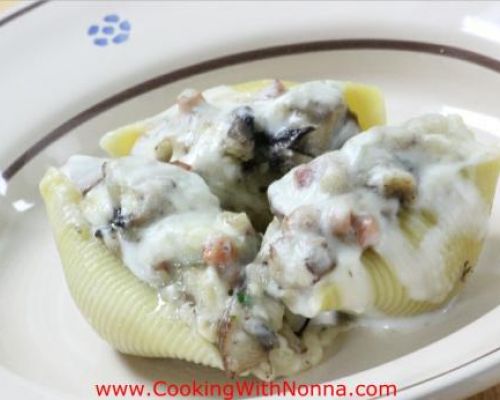 Ingredients
For 4 Person(s)
For the Shells:
1

pound

large Shells

1 1/2

pounds

potatoes

1

pound

baby Portobello mushrooms

8

ounces

Speck cubed

Mozzarella shredded or chopped into small cubes

4

cloves garlic, minced

fresh parsley

salt and pepper to taste

4

tablespoons

extra virgin olive oil
For the Bechamel:
1 3/4

cups

milk

3

tablespoons

unsalted butter

4

tablespoons

all purpose flour

dash of nutmeg

salt to taste
Directions
Preheat oven to 350 degrees.

Boil Potatoes until tender in slightly salted boiling water. Drain. Mash and set aside.

Cook Shells in salted boiling water halfway through. They should be harder than Al Dente. Set aside.

In a large sauté pan heat the oil and sauté the garlic until golden. Add the Speck and sauté for 3-5 minutes.

Add the mushrooms and a pinch of salt and sauté until the mushrooms are tender.

Add the mashed potatoes and cook until everything is well mixed. Remove from heat and let the mixture cool slightly. Add the black pepper to taste and the mozzarella.

In a small sauce pan add the flour to the Butter once it's melted until it begins to brown. Add the milk whisking until the mixture thickens. Add Salt to taste and Nutmeg. Set aside

In a large baking pan (you may need to do 2 batches) add a thin layer of Bechamel. Fill each shell fully and arrange in the baking pan. Add a drizzle of Bechamel over the top of each shell.

If the Bechamel sauce has thickened, whisk in a little cold milk to bring back the liquids consistency.