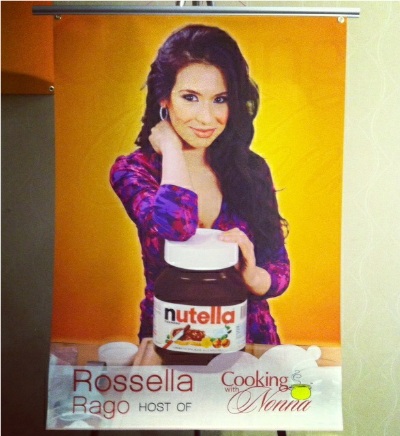 I couldn't have been happier this year to Washington to attend the 2012 National Italian American Foundation Gala.  I had attended two years ago and made a speech about Italian American youth, but this year I thought I'd give the people more of what they wanted: NUTELLA!!  Every year NIAF holds a sort of Expo showcasing Italian and Italian American brands and companies while conferences go on throughout the day.  This year I decided to participate and set up shop baking my famous Rossella Nutella Cookies. Papa Vito and I loaded up the car with our portable convection oven and over 20 lbs of cookie dough and headed to our nation's capital for a weekend full of baking and dressing up (which I love!)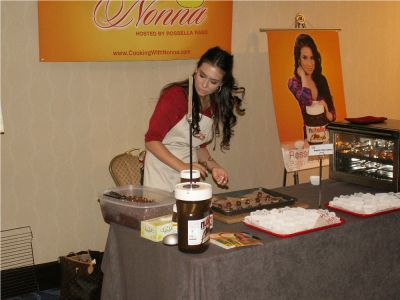 I was thrilled at the response the Nutella cookies got.  As people descended into the expo space via the escalator they were immediately hit with the intoxicating aroma of Nutella, white, and dark chocolate melting together in the air. After an hour the word had spread and I was quite popular around town.  I had a few repeat customers to say the least and almost everyone inquired as to why my cookies weren't already packaged and available for sale.  Hmm, definitely something to think about!! Maybe soon!!

Upon arriving I was so excited to see my friends from Mike's Deli on Arthur Avenue in the Bronx. Chef-Owner David Greco and his crew treated me like family all weekend.

I was amazed at all the wonderful food and products they brought down to DC to feed the hungry members of NIAF. Pasta, panini, every kind of olive oil, sauces, and even steak! I was honored when I was invited into the special VIP area to enjoy a panino con Prosciutto and Mozzarella made just for me.  I repaid them  in Nutella cookies which became currency at NIAF Central.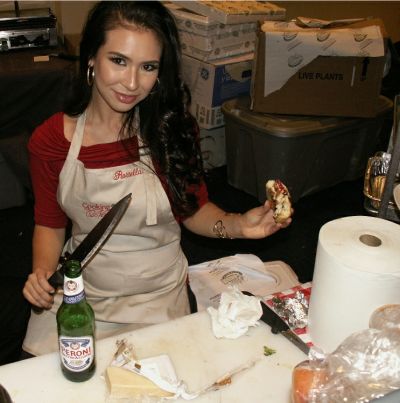 Check them out next time you're in the Bronx! Their operation has been family owned for generations and the quality is absolutely top notch. Try their famous Eggplant Parmigiana that beat Bobby Flay's in Food Network's Throwdown with Bobby Flay! You won't be disappointed.


I was honored to receive a visit at my booth from this year's master of ceremonies, Mr. Mike Piazza! I gave him a Nutella cookie even though I'm more of a Yankee fan :)

I also received a visit from renowned Washington Chef Luigi Diotiaiuti who made me smile as I baked the day away.  Now... with a last name like Diotaiuti, which means: May God Help You... he has to be a good and cool guy! :) I also loved his chef coat with bow tie pasta buttons! Check out his restaurant Al Tiramisu` the next time you're in the DC area. :)

Finally it was time for the Gala! I really love getting all dressed up, although baking in 5 inch heels for 2 days straight didn't exactly get me excited about putting on the Louboutins and going out on the town, but alas I am a trooper and I powered through. A few glasses of wine helped dull the pain.  Oh the things we women do in the name of beauty!
I was so happy to see Nonna Tina at the Gala looking her best! Nonna Tina is the mother of NIAF'S EVP, Dr. John Rosa and absolutely loved the Nutella Chip cookies! Personally I never know if one of my recipe's is truly good until I get a Nonna's seal of approval. Nonna Tina loved the cookies so much that 2 days later her son sent me a video of her baking them for her family, including her 92 year old mother! I was beside myself and so touched. How cute is that? I mean really!! Take a look at the VIDEO... Nonna and Bisnonna are both so cute!


My gorgeous friend Giada Valenti did a wonderful job singing the Italian national anthem. A warm congratulations to all the honorees this year, especially the CEO of Ferrero. Hopefully he heard the buzz about Rossella Nutella cookies :) A big congratulations to NIAF's new Chief Operating Officer John Viola as well for putting together a beautiful gala and letting me be a part of it.  He's a young guy with great ideas for the future!

Of course the real party happens after the Gala in the hotel lobby. But as they say, "What happens at NIAF stays at NIAF"!

Tanti Baci! Rossella!