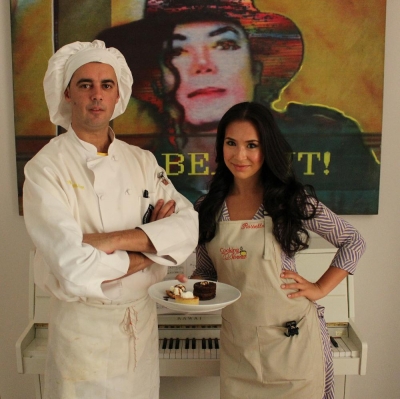 When I was asked to be a part of a charity auction benefiting Alexandra's Playground back in October, I jumped at the opportunity.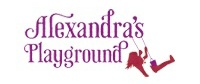 So here's what happened. My good friend and consulting chef, Pasquale Martinelli of WarmPalate.com told me about a charity that builds playgrounds for children in underprivileged neighborhoods in memory of a wonderful little girl named Alexandra, who passed away in a tragic accident in 2008.  Her parents, Dr. Michael and Andrea Vitale started Alexandra's Playground to increase opportunities for active play for children in need.  Dr. Vitale asked Pasquale and I to  donate something to the charity and the first thing that came to mind was a synergy of both our talents. 

Pasquale is a mad genius chef who is an expert in Pugliese cuisine.  My family has known him for years and he has been an absolute culinary inspiration to me.  He's also quite the charmer.  His adorable Italian accent and sense of humor won over Martha Stewart when he appeared on her show a few years ago, something he actually downplays out of modesty.  For Pasquale, it's all about the food.  He has the utmost respect for ingredients and shares my mission to promote traditional Pugliese cooking, but he does so with the comedy and mannerisms of an Italian comedian from the 1960's.  Like my mother Angela loves to say, "Fellini wouldn't have let him get away."  I have to say that's exactly how I feel about Pasquale.  Imagine if Roberto Benigni was playing a chef-- there you have it.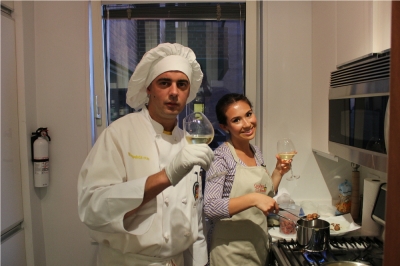 Rossella and Pasquale at work!

We decided to donate a special private dinner party in the winner's home, prepared and hosted by the both of us, that would focus on the authentic generational recipes of Cooking With Nonna and provide a bit of history behind all our dishes.
The night of the auction came and I was excited to see what would happen.  Being the last item to be auctioned off, we were kept in suspense until the very end, so I was a little nervous to say the least.  There are never any guarantees, and I was just hoping the dinner would sell for its suggested value of $3,000.  To our wonderful surprise, the dinner exceeded everyone's expectations when it sold for $6,000 to Geraldo Rivera, who happened to be there that night and put up quite a fight when a little bit of a bidding war broke out.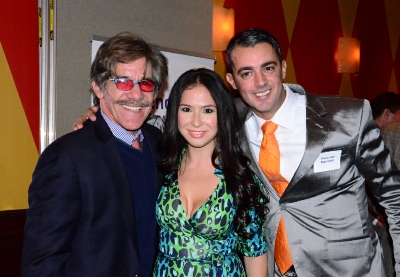 The Night of the Auction

Pasquale and I were so proud to be able to raise that amount of money for Alexandra's Playground, and we were thrilled to have the opportunity to cook for Geraldo and his guests. 

After a few months of organizing, the night of the dinner finally arrived.  Pasquale and I collaborated on a menu that we were sure would be a feast for the senses as well as representing our passion for Pugliese food.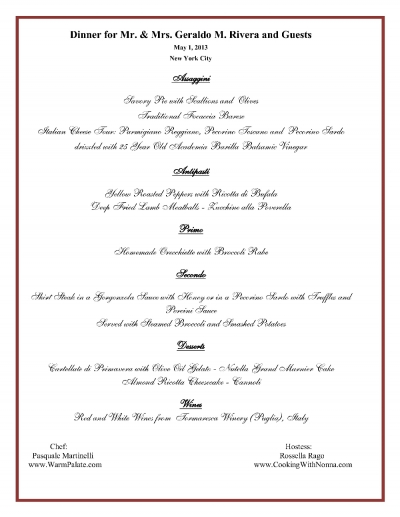 Menu of the Geraldo Rivera Dinner

Our Assagini course was a sampling of traditional flavors from our shared hometown of Mola dI Bari.  The Savory Pie, otherwise called Scalcione, is one of my favorite things to make at a dinner party because so many people are surprised at it's delicate flavor despite containing such assertive ingredients as scallions, olives and sometimes even anchovies.  This pie is baked in a simple, savory crust made from flour, olive oil, and white wine.  It's traditionally eaten on Good Friday, but I personally love it any time of year. Get the recipe HERE!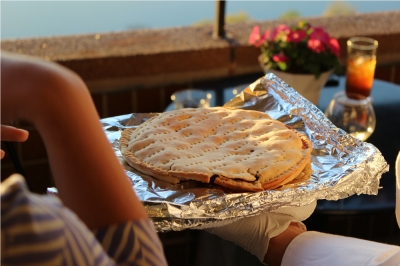 Scalcione


Focaccia Barese is another staple for any Pugliese dinner.  There are many types of Focaccia-- in fact in my travels throughout Italy I've never met a Focaccia I didn't want to devour-- but there's something about my Nonna's traditional Focaccia Barese that really entrances my guests. Nothing fancy, just tomatoes, oregano and salt. The beauty is in it's simplicity.  For the video and recipe click HERE!

Focaccia Barese


We were also lucky enough to have the opportunity to be able to serve some amazing products from Academia Barilla. They provided a wonderful selection of cheeses, olive oils, and an incredible 25 Year Old Balsamic Vinegar that added an elegant touch to the delicious Parmigiano Reggiano and Pecorino Sardo and Toscano.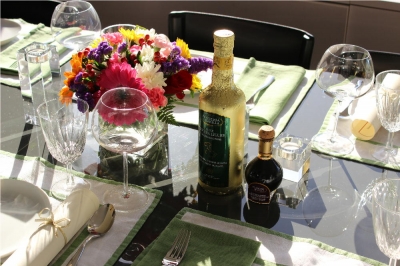 Fine Academia Barilla Products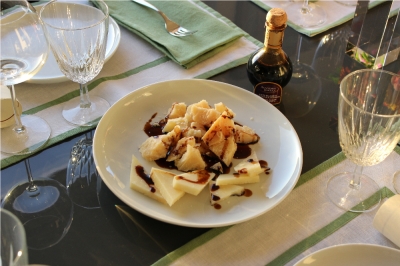 Academia Barilla Parmigiano Reggiano and Pecorino drizzled with 25 Year Old
Academia Barilla Balsamic Vinegar
 
With all this great food of course you need some great wines as well.  Well, we were very lucky that our dear friends from  Tormaresca Winery from Puglia donated twelve bottles of  excellent wines: a Torcicoda Primitivo  and a Roycello Fiano... both outstanding!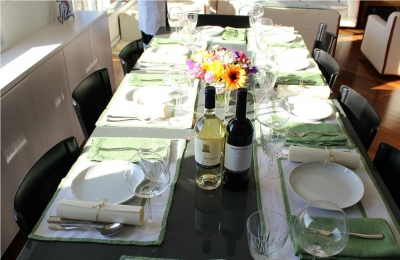 Tormaresca Wines



Our Antipasti were kept light and delicate:  yellow roasted peppers with Bufala Ricotta, and Paquale's wonderful lamb meatballs with very traditional Zucchine alla Poverella.  These fried Zucchine make a wonderful side dish to everything.  I remember eating these almost every day throughout the summers I would spend at my Zia's villa in Cozze.  The combination of red wine vinegar, mint, and garlic is incredibly refreshing.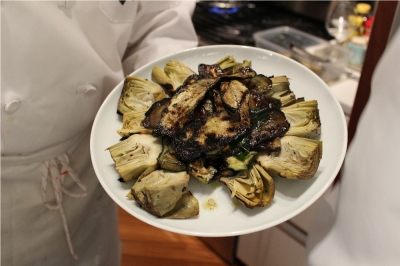 Grilled Artichokes and Eggplants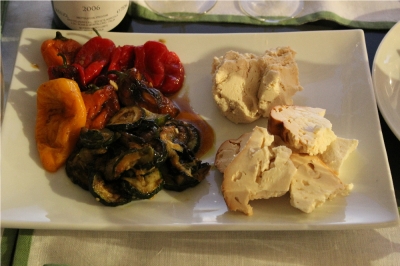 Zucchine, Peppers and Ricotta di Bufala



Pasquale also whipped up some beautiful Cauliflower tossed with pine nuts, raisins, and olive oil.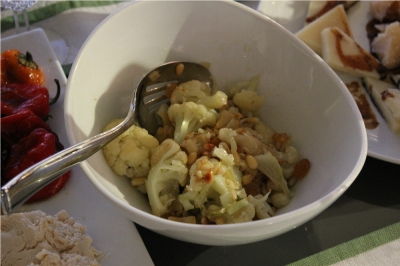 Cauliflowers and Pine Nuts


For our pasta course, Pasquale and I wanted to keep it as traditional as possible and perhaps the pasta dish most synonymous with Puglia is Orecchiette with Broccoli Rabe.  I decided to make the Orecchiette myself while Pasquale focused on creating the most beautiful sauteed balance of Broccoli Rabe, Olive Oil and garlic I've ever seen, cooking them to an almost creamy consistency.  Simply perfect. 

I decided to tell Geraldo and his guests a little story about Orecchiette and how if you walk through the streets in the little towns in Puglia you will usually see little old ladies sitting outside making Orecchiette with the back of a serrated edge knife with incredible speed.  My great grandmother Regina used to test her speed when making Orecchiette.  She would put a large pot of water on the stove and by the time her water was boiling she had made enough Orecchiette to feed her 7 children.  They asked me how long it took me to make the two pounds of pasta for that evening and laughed along with me when I admitted it took me nearly two hours.  I admit I still have a long way to go in my pasta making skills, but then again I'm learning from my Nonna Romana who has been making pasta for 68 years. That's a lot of Orecchiette!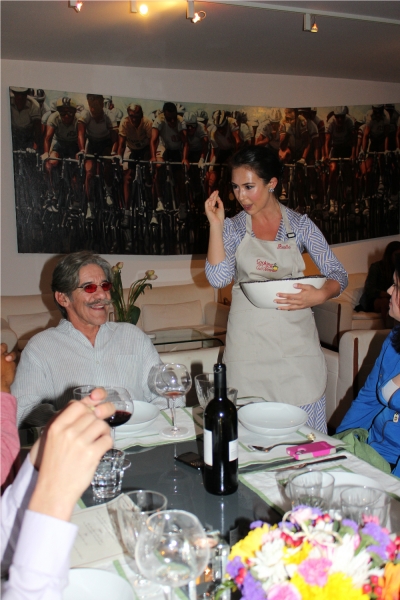 Rossella and her Orecchiette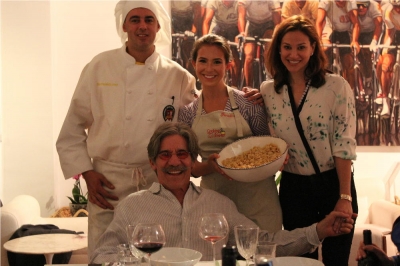 Geraldo Loves Orecchiette
For our main course, Pasquale prepared a beautiful skirt steak in a choice of decadent sauces: Gorgonzola with Honey or Pecorino Sardo with Truffles and Porcini.  We kept the sides light and simple with some broiled potatoes and Broccoli.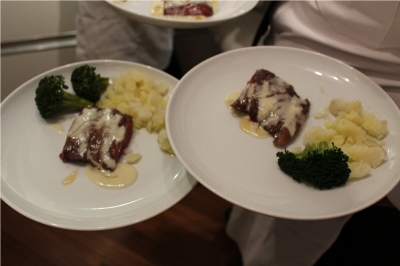 Strip Steak with Pecorino Sardo, Truffles and Porcini Sauce
Finally it was time for my favorite part of any meal, dessert.  I wanted to do a dessert trio so everyone could sample different flavors without having to commit to a huge piece of something.  I decided on my Nonna's Almond Ricotta Cheesecake, because almonds have a huge influence on the pastry in Puglia.  Baked into a classic Ricotta cheesecake with orange zest, it's creamy and heavenly.
I also wanted to make a dessert that was very traditional with a modern twist. A Cartellata is a traditional Christmas dessert in Mola di Bari.  It's made by arranging a deep fried pastry dough into a rose shape and soaking it in Vin Cotto or any wine or fig reduction for a long time.  I wanted to update this recipe by making squares out of the pastry dough and filling it with an olive oil gelato with just a drizzle of the Vin Cotto for a punch of flavor. Natularry I call them Cartellate di Primavera!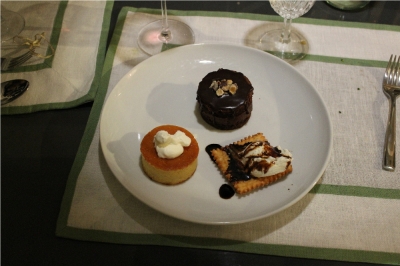 Dessert Trio

I also contemplated leaving my last dessert off the plate, but I just couldn't do it.  In the end, no meal is complete to me without Nutella so I had to make a miniature version of my Nutella Grand Marnier Cake for my dessert trio.  It many not have a super traditional story behind it, but Nutella has always been a part of my life since childhood and I'll work it into a menu any chance I get. Who's actually going to complain about that?? Not him!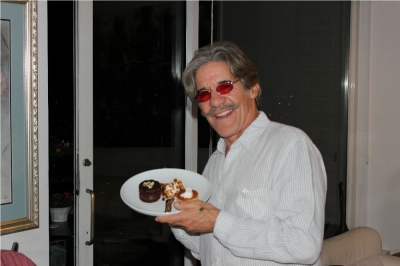 Geraldo and my Desserts



Pasquale even made his famous Cannoli which he personally filled to order! And of course no Italian Dinner is complete without some cold Limoncello and Crema di Limoni!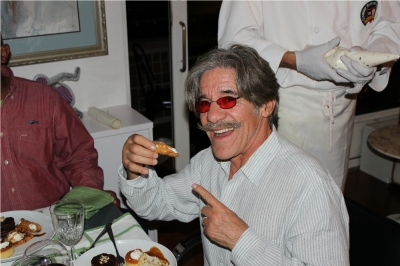 Geraldo and his Cannolo


At the end of the evening, all Pasquale and I wanted to accomplish was to give Geraldo and his guests a night to remember and serve some delicious food that was true to our heritage.  The evening was a wonderful success, and I'm very proud of us as a team. Geraldo and his lovely wife Erica were very gracious generous hosts and all their guests were very sweet, down to earth people.  Our goal was to give them a  culinary experience full of flavor, history and traditions and I don't think we could have done any better than if Nonna was there cooking alongside us. Hey, that's not actually a bad idea for next time :)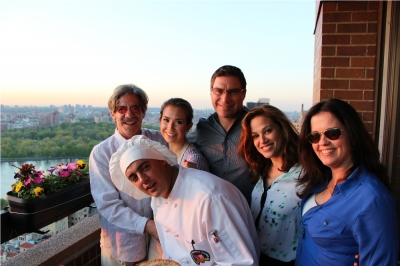 Geraldo, his wife Erica and Friends


Hear what Geraldo Rivera had to say on his Radio Show the next morning during a conversation with one of his dinner guests Arthur Aidala, Esq.
PS: A special Thank You to the two sponsors of this event: Academia Barilla and Tormaresca Winery.  Their fine quality products contributed to making this dinner a very special event. Please patronize their products... they are really excellent!
But of course a special Thank You goes to Geraldo Rivera and his wife Erica  for their generosity and hospitality!