Banti
You can make this for dinner, snack or serve as an Appetizer.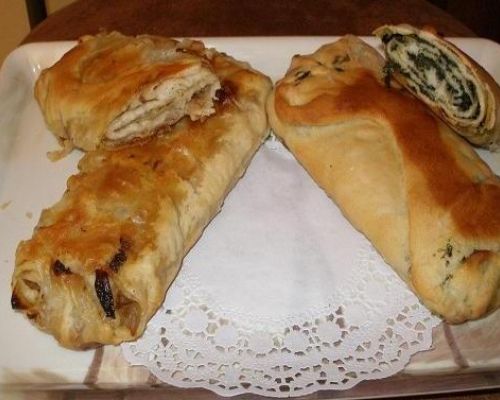 Ingredients
For 4 Person(s)
For the Banti:
1

pound pizza dough (I use frozen, defrost it and let it rise)

2

boxes of frozen chopped spinach OR

1/2

pound

pound of sausage (take off casing)

1/4

cup

cup of corn oil

2

medium onions

salt & pepper (to season)
Directions
If pizza dough is frozen let it defrost and rise.

If you are making the spinach/onion defrost frozen chopped spinach and squeeze out water and put aside

In the mean time fry the onions in the oil..until they get some color

Next step...I use my counter or you could use a very large wooded cutting board.

When dough has raised put some flour on the counter and start to roll out the dough like you were making pizza but thinner.

Next step.... sprinkle some oil on the dough and spread it to cover the dough (very little).

Then you place the spinach on the dough all over in different spots.

Then you do the same and place the onions on the spinach or around it.

Then you sprinkle some salt & pepper and drizzle a little bit of oil on top.

Now you can roll up the dough to the end.

Close the sides but pinching them.

Pre-het the oven at 400F.

You could either bake it like that or you can cut it in half.

If you do cut it... pinch the other ends that weren't pinched.

I use the throw away aluminum pans.... sprinkle a little bit of oil on the pan and place the banti in the pan and then the oven.

Put them in the oven and reduce the temp. to 375F. Bake them for about 15-20 minutes until one side gets colored... then turn them over until the other side gets colored too. Now you can take them out and serve them.

If you want to make them ahead of time you can make them and freeze them.
Recipe Notes
I fill the dough with spinach & onions or sausage & onions. I do not cook my sausage before putting it on the dough... just remember to take it out of the casing. You can fill them with whatever you want. Enjoy!!
Reviews
Thursday, 14 December 2017
These Banati can be filled with anything you like. Try it out and let me know.
- Mimi
Thursday, 14 December 2017
aT WHAT TEMPATURE AND HOW LONG.
- beechfern78
Saturday, 21 October 2017
Really good
- vitorago
Thursday, 08 September 2016
Did not mention if onions are chopped or slices... also, how long is the cooking time? And at what t...
See Full Review >>
- italy2go