Broccoli Potato Bake - Sformato di Patate e Broccoli
Broccoli Potato Bake - Sformato di Patate e Broccoli.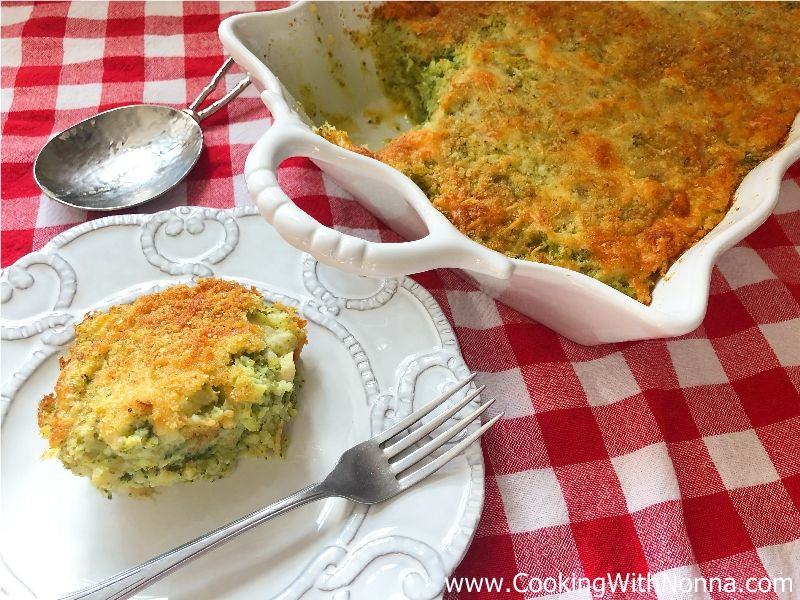 Ingredients
For 8 Person(s)
For the Sformato:
4

Yukon Gold Potatoes, cut into 2 inch chunks

24

ounces

broccoli florets

2

large eggs

1/4

cup

grated Pecorino Romano or Parmigiano Reggiano cheese

1/2

teaspoon

salt

1/4

teaspoon

black pepper

2

tablespoons

extra virgin olive oil, plus more for drizzling

8

ounces

Scamorza or medium Provolone Cheese, divided

2

tablespoons

plain breadcrumbs
Directions
Drop the potatoes into a pot of salted boiling water and cook until fork tender, about 25 minutes.

When the potatoes have about 15 minutes to go drop the broccoli into another pot of salted boiling water. Cook until the broccoli are easily mashed with a fork, about 10-15 minutes.

Preheat your oven to 350 degrees. Oil a 9x13 inch baking pan.

Drain the potatoes and broccoli and transfer them both to a large mixing bowl. Using w potato masher, mash them together. Cool for 15 minutes.

Add the eggs and grated cheese, salt, pepper and oil and mix until everything is well combined.

Take 6oz of the Cheese and cut it up into 1/4 inch cubes. Fold them into the potato broccoli mixture. Spread the mixture into the baking dish and smooth the top with a spoon. Using a grater with large holes, grate the remaining cheese over the top and sprinkle with the breadcrumbs. Drizzle the whole thing with about 2 tablespoons of extra Virgin Olive oil.

Bake for 30 minutes at 350 degrees. Raise the temperature to 400 and bake for an additional 10 minutes, or until the top is nicely browned. Cool for 1 hour before serving.

*This is also great to make the night before and reheat! Let it come to room temperature for 1 hour from the refrigerator and them reheat at 325 for 30 minutes.
Reviews
Thursday, 21 November 2019
could you please make videos on how to make it
- alessandradi