Mimosa Tart
A Mimosa Tart for all the women in your life.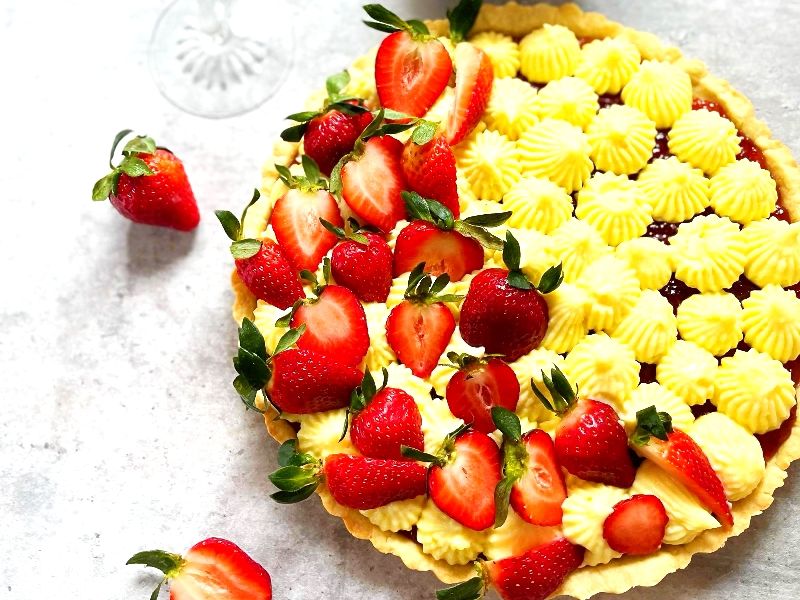 Ingredients
For 1 Batch(es)
For the crust:
1

unsalted butter, cold

2

cups

all purpose flour

1/3

cup

confectioners sugar

2

packets Vanillina powder or 1 teaspoon vanilla extract

1

large egg

zest of 1 lemon
For the white chocolate pastry cream:
1

cup

+ 2 tablespoons whole milk (267 ml)

1/4

cup

heavy cream (60 ml)

1/2

cup

granulated sugar (100 gr)

6

tablespoons

corn starch (42 gr)

5

egg yolks

1

teaspoon

vanilla extract

1

lemon, peel only

8

ounces

white chocolate (chips are ok)
For the tart:
Strawberry preserves

Fresh strawberry slices to decorate
Directions
To make the crust:

In a food processor, combine the butter and flour and mix until crumbs form. Turn the dough out onto a floured surface and make a well.
To the well add the sugar, vanilla, egg and lemon zest.
Mix with your hands until a dough forms.
Form the dough into a disk and wrap in plastic wrap. Refrigerate for 1 hour.
Preheat your oven to 350 degrees.
Roll out the crust between two pieces of parchment paper into a 1/8 inch disc.
Arrange the crust into an 11 inch loose bottom tart pan. Dock with a fork and place a sheet of parchment paper over the crust. Add beans and blind bake for 20 minutes. Cool completely before filling.

To make the pastry cream:

In a bowl, mix the milk, heavy cream, the beaten egg yolks and the vanilla.
In a pot, add all the dry ingredients and mix well.
Put the pot on the stove at medium heath and add the milk mixture. With a wooden spoon start mixing continuously.
Add the lemon peel and continue to stir non-stop.
After about 7-8 minutes, the mix will begin to thicken and form a cream.
Once it reaches the desired cream consistency, remove the pot from the flame, remove the lemon peel and add the white chocolate. Whisk until completely melted. Continue to stir for another 30 seconds.
Spread the cream into a baking dish and press a layer of plastic wrap directly onto it to prevent a skin from forming. Cool for 15 minutes.

To assemble:

Spread a layer of strawberry preserves in the bottom of the tart pan. Pipe or spread the white chocolate pastry cream over the preserves and top with fresh strawberry slices. Chill for at least 1 hour before serving.