Farro, Butternut Squash and Pancetta
Farro, Butternut Squash and Pancetta... a very tasty and nutritional dish very high in protein.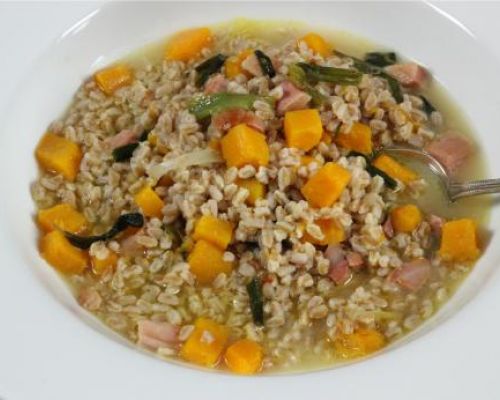 Ingredients
For 6 Person(s)
For the Farro:
1

pound

farro

3

cups

butternut squash - diced

2

cups

pancetta - diced

3 1/2

quarts

vegetable broth - better if you make your own

6

scallions - chopped in large sections

5

sage leaves

extra virgin olive oil

salt & pepper
Directions
Put the vegetable broth in a large pot and bring it to boil. Once it boils, add the Farro and let it cook. It will take about 30 mins. Add salt and pepper as desired.

While the Farro is cooking, in a saute` pan add 4 Tbs of EV olive oil along with the butternut squash, the scallions and the sage. Let the squash cook until it is soft and begins to brown. Set aside.

In a saute` pan, add a coating of olive oil and saute` the pancetta until it is slightly crispy on all sides. Drain the oil and set aside.

Once the Farro is cooked, by the way it always maintains a rather Al Dente consistency, add the vegetables and the pancetta to the pot, stir for 1-2 minutes and serve.