Grilled Eggplant and Ricotta Stacks
Grilled Eggplant and Ricotta Stacks: This simple yet impressive recipe works beautifully as a side or appetizer. It's also a great way to use leftover Eggplant from a BBQ!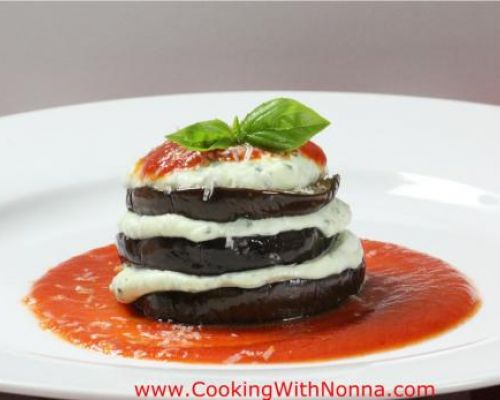 Ingredients
For 10 Person(s)
For the Eggplant:
3

Sicilian eggplant or 1 1/2 regular Eggplant cut into discs.

extra virgin olive oil for brushing

1

cup

whole milk or part skim Rrcotta

handful of basil leaves

1

cup

marinara sauce

grated Parmigiano cheese to sprinkle on top
Directions
Brush Eggplant slices with oil and grill on a barbecue grill or a cast iron grill pan brushed with oil as well.

Grill a few minutes on each side until slices are soft. Transfer to a plate lined with paper towels and sprinkle with salt.

Add the Ricotta, Basil and salt to taste to a blender or a food processor and process till smooth.

To assemble the stacks spoon some tomato sauce into a plate. Using the back of the spoon spread in a circular motion. Layer eggplant, and ricotta using 3 slices per stack. Top with ricotta and spoon some more sauce on top.

Garnish with some fresh basil and grated Parmigiano cheese. Best served at room temperature.
Categories:
Appetizer Recipes
,
All Recipes
,
Christmas Recipes
,
Thanksgiving Recipes
,
Cooking with Rossella
,
Valentine's Day Recipes
,
Ricotta Recipes
,
Mother's Day Recipes
,
Memorial Day Recipes
,
4th July Recipes
,
Eggplant Recipes
,
Labor Day Recipes
,
Valentine's Day  Recipes
,
Summer Appetizer-Side Recipes
,
Gluten Free Appetizer Recipes
,
Vegetarian Appetizer Recipes
,
Mediterranean Diet Appetizer Recipes
,
Thanksgiving Appetizers and Sides Recipes
,
Christmas Appetizer Recipes
,
Easter Appetizer and Side Recipes