Italian Sausage Soup
This soup has become a Christmas Tradition for my family. My two Brothers and I would always have our friends over on Christmas night after all of the Family festivities. My Mother would always make us all a big pot of this soup and it would be gone in 10 minutes! Our friends looked forward to this every year!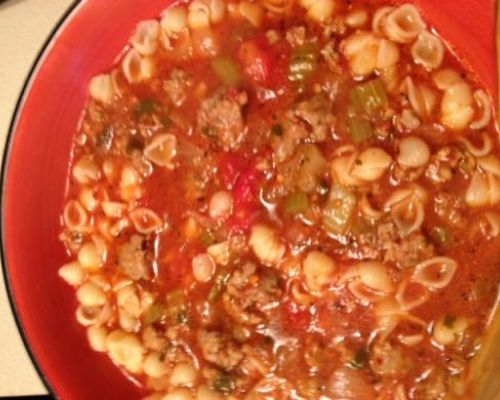 Ingredients
For 10 Person(s)
For the Soup:
4

pounds

lbs Italian sausage, removed from casings and browned

1

large yellow onion, chopped

1

bunch of celery, chopped

8

cloves of garlic, minced

48

ounces

crushed tomatoes

28

ounces

Italian peeled tomatoes

64

ounces

chicken broth

extra virgin olive oil

2

teaspoons

oegano

2

teaspoons

dried basil

2

teaspoons

thyme

2

teaspoons

sugar

salt, to taste

1

pound

small soup shells

Parmigiano or Romano Cheese for garnish
Directions
Brown your Italian Sausage, drain and set aside.

Saute diced celery, onion in garlic in olive oil until just tender.

Add Italian sausage, crushed tomatoes and peeled tomatoes. Stir and let cook on medium for about 10 minutes.

Add broth, sugar and seasonings. Simmer for about 30 minutes.

In the meantime, boil shell pasta in salted water until al dente.

Put desired amount of pasta in bowl and spoon soup over. Garnish with your favorite Italian Cheese.
Recipe Notes
You can cook the sausage whole and slice thin or you can cook it loose, its your preference. My Mom cooks her pasta in the soup, but I think it takes up too much of the good juice so I always keep separate. Serve with a nice crusty piece of bread to soak up the juice!
Reviews
Sunday, 27 January 2019
This recipe is so delicious! It's easy to make and it yields a lot, so there's plenty for leftovers....
See Full Review >>
- Bscordam
Thursday, 25 October 2018
This is phenomenal!!!!!
- Jenfroggie
Wednesday, 03 October 2018
Just made the Italian Sausage Soup and can't wait for my family to come home to eat it. It is so f...
See Full Review >>
- Nassaur
Thursday, 14 December 2017
Perfect!
- Fenway