No Bake Pumpkin Mascarpone Tart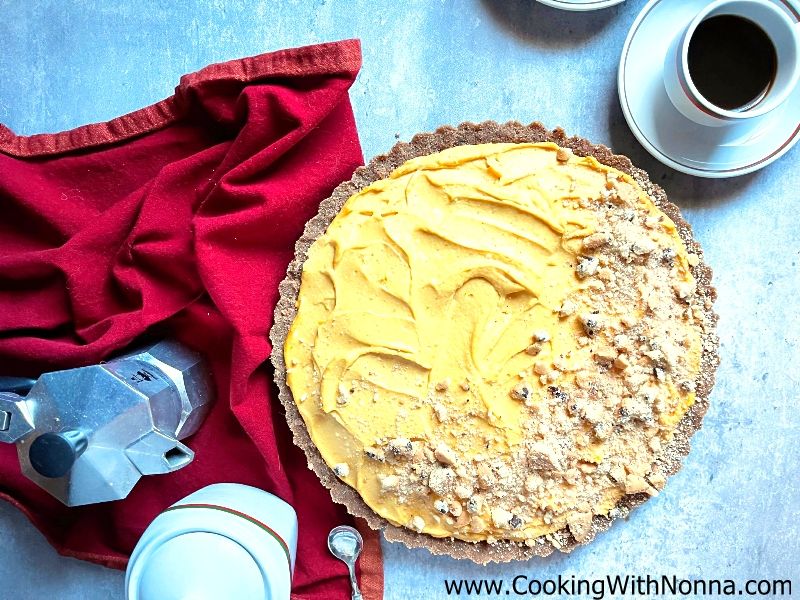 Ingredients
For 1 Batch(es)
For the Tart:
12

ounces

Gocciole Cookies. you can also use Pan di Stelle, Grahm crackers or nilla wafers

1 1/2

sticks unsalted butter, melted

1 1/2

cups

canned pumpkin purée

1

pound

mascarpone cheese, room temperature

1

teaspoon

Pumpkin Pie Spice

3

packets Vanillina powder, or 2 teaspoons vanilla extract
Directions
Yield: one 11 inch tart. serves 8-10

In a food processor, process the cookies until they are very fine crumbs. About 45 seconds.

In a bowl, add the melted butter to the crumbs and form a paste. Press into and 11 inch loose bottom tart pan making sure the crumbs are even all around the edges. You may also use the bottom of a glass to flatten it out.

Place the tart pan in the refrigerator while you prepare the filling.

Combine the pumpkin, mascarpone, vanilla and pumpkin pie spice together in a bowl and beat with an electric mixer until smooth. Add the filling to the tart shell. Decorate with cookie crumbs as desired. Refrigerate until firm, at least 3 hours before serving.

*do not leave the tart out for long before serving. For best results, serve directly from the refrigerator.