Nonna's Baked Zucchini Flower Frittata
Nonna's Baked Zucchini Flower Frittata. One of the many ways to enjoy your zucchini flowers in the summer.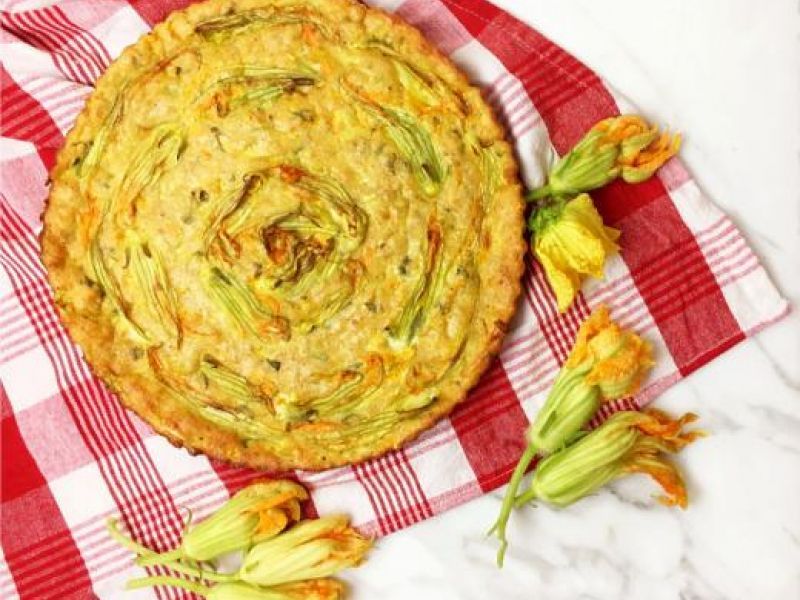 Ingredients
For 6 Person(s)
For the Frittata:
12

zucchini flowers, washed and roughly cut into 1 inch pieces, plus a few more for decorating the top

6

cloves garlic, minced

1/4

cup

fresh mint, minced

1 1/2

cups

grated pecorino romano cheese

1

cup

plain bread crumbs

8

large eggs

1/2

cup

extra virgin olive oil
Directions
Preheat the oven to 400 Degrees. Oil an 11 inch loose bottomed tart pan.

In a large mixing bowl combine the cut Zucchini flowers, garlic, mint, cheese, breadcrumbs, eggs and oil. Mix well until you have a liquid batter. If the mixture seems a little dense add 2 tablespoons of milk. Spread the batter into the prepared pan.

If you have any zucchini flowers left for decorating, cut them in half lengthwise and arrange them on top of the batter.

Bake for 25 minutes or until the edges begin to brown and the center of the frittata is golden in color.
Reviews
Monday, 10 July 2023
I was not crazy about this recipe. Way too much garlic, the breadcrumbs dried it out and I think th...
See Full Review >>
- AngieMM
Saturday, 22 June 2019
This receipe is delicious..will make it again..
- grandma8