Pasta Salad with Figs and Heirloom Tomatoes
Pasta Salad with Figs and Heirloom Tomatoes.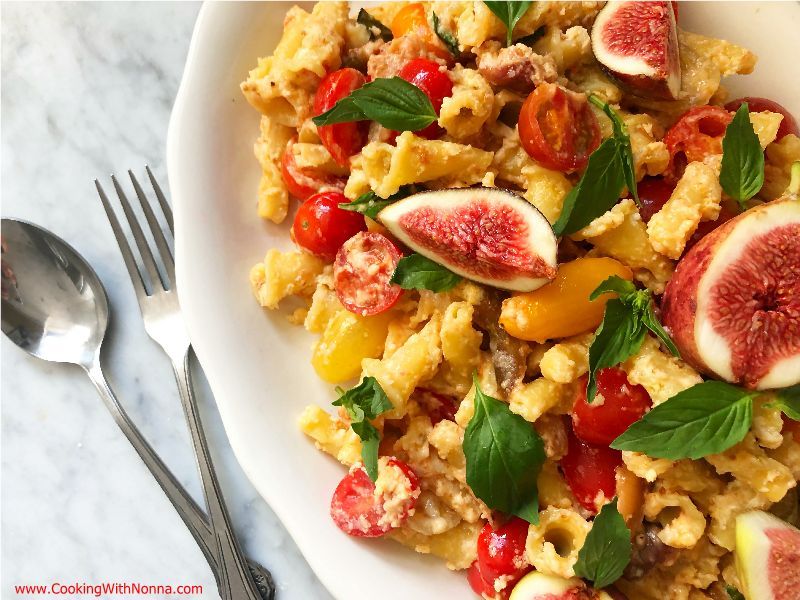 Ingredients
For 6 Person(s)
For the Pasta Salad:
2

pints

small Heirloom Tomatoes, sliced

1/4

+ 2 tablespoons extra virgin olive oil, divided

5

fresh basil leaves, torn

3

cloves garlic, sliced

1/4

teaspoon

red pepper flakes

8

fresh figs, stems trimmed and quartered

1

cup

grated Parmigiano Reggiano cheese

1

cup

grated Pecorino Romano cheese

1

cup

Campanelle pasta (or any other shape you prefer)
Directions
In a large mixing bowl combine the sliced tomatoes, 1/4 cup of the oil and the torn basil leaves.

Drop the pasta into a pot of generously salted boiling water.

While the pasta is cooking heat the remaining 2 tablespoons of oil in a skillet over a medium flame and add the red pepper flakes and sliced garlic. Cook for 30 seconds and add the Figs to the pan. Cook until the Figs begin to breakdown, about 3-4 minutes. Remove from heat

Once the pasta is al dente drain it and add it to the bowl with the tomatoes. Add the cheeses in immediately and toss well to coat. The heat of the pasta will begin to melt the cheese.

Pour the oil and Fig mixture over the pasta and mix together. Serve chilled.
Reviews
Friday, 27 September 2019
Where is this recipe from? I live less than 10 km far away from Mola and I never saw figs with pasta...
See Full Review >>
- Bonnits