Paste Genovesi - Cookies from Genova
Cookies from Genoa: A delicious cookie filled with cream, chocolate and cinnamon. Very easy to make and so cute!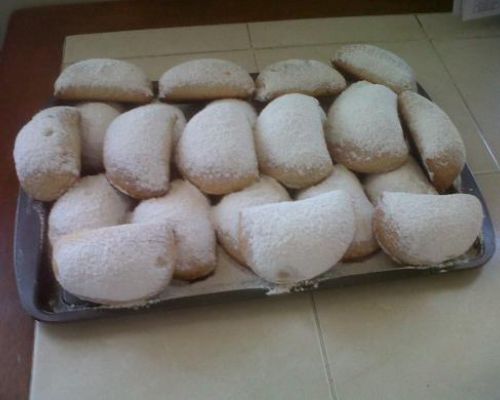 Ingredients
For 4 Dozen(s)
For the Cookies:
2

pounds

all purpose flour

3/4

pound

Crisco

1

teaspoon

baking powder

1/2

teaspoon

baking soda

3/4

pound

sugar

2

large eggs

vanilla extract

milk, as much as needed(The Dough must be soft )

1

tablespoons

cinnamon

8

ounces

dark chocolate chips
Directions
Make the Dough:

Mix the flour and the Crisco until the Crisco is melted.

In a small pot, warm up the milk, about 1/2 cup, add the vanilla and the sugar and pour it into the flour.

Add the baking powder and bicarbonate of soda and mix well.

Cream of Milk:

In a pot, add 8 Cups of milk and 1 Cup of sugar and put on the stove.

In the meantime, in a bowl add 1 Cup of cold milk and 10 Tbs of corn starch. Mix well until the corn starch is dissolved.

Once the milk warms up, add the cold milk with corn starch slowly while you continue to stir the milk and the cream becomes firm. (The cream should be prepared the day before as it should be used cold)

Once the cream is cold, add the chocolate chips and cinnamon and mix well.

Cookies Preparation:

Cut a piece of dough and flatten it with a rolling pin.

Deposit a Tbs of cream at the center, cover the cream with the dough to form a half moon and with a glass cut the excess dough in order to have a perfect half moon.

Make all your cookies and when done bake the at 350F for about 15 mins. They are done once you see that they have turned golden. Also check the bottom to be sure that they do not burn.

Once they come out of the oven and cool off, sprinkle them with powdered sugar.
Reviews
Thursday, 08 September 2016
how many does this make? Seems like a lot of milk
- cmgted