Pumpkin Roll
I started my pumpkin roll journey a few years ago but I never wrote down the recipe! (the result of all my Nonna training is that I have to force myself to measure and write things down) Well, it took me a few days of cracked rolls but I think I finally reclaimed my glory! I remembered making a variation of a pan di spagna (sponge cake) for the cake part and of course I had to fill it with Nutella! I added the chopped hazelnuts for texture and because I think it goes very well with the Nutella cream cheese.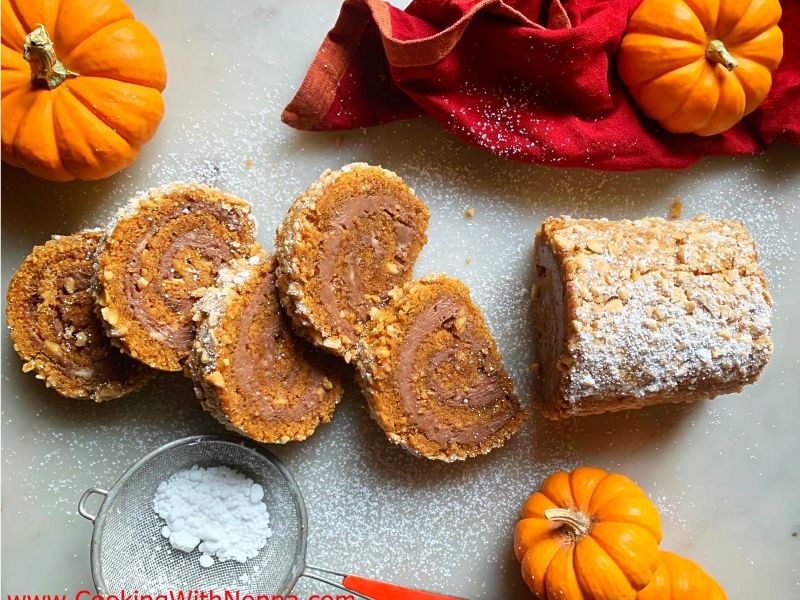 Ingredients
For 10 Person(s)
For the Roll:
3

large eggs (room temperature) soak them in warm water for a few minutes

1

cup

granulated sugar

1

cup

pure pumpkin (not pumpkin pie filling)

1

teaspoon

vanilla extract

3/4

cup

all purpose flour

1

teaspoon

baking soda

1

teaspoon

ground cinnamon

1/2

teaspoon

ground nutmeg

1/8

teaspoon

ground cloves

1/8

teaspoon

salt

1

cup

chopped hazelnuts

sugar for sprinkling
For the Filling:
8

ounces

cream cheese (room temperature)

1

cup

Nutella (room temperature)
Directions
Get your Nutella imported from Italy in a glass jar

HERE!

Preheat oven to 350 degrees

Grease a cookie sheet and line with parchment paper. Grease the parchment paper as well. You can use butter or shortening but I used a spray with flour.

In the bowl of a stand mixer beat eggs, sugar and a pinch of salt until the mixture has doubled in size and ribbons form- about 10 minutes on high speed.

While the mixer is going sift the flour, baking soda, cinnamon, nutmeg, cloves and salt together twice to combine the ingredients. Set aside.

When the eggs and sugar have doubled in volume and ribbons have formed turn the mixer down to medium-low speed and add the vanilla extract and pumpkin. Mix until just combined and then add the dry ingredients. Mix until just combined. Do not over mix.

Pour batter into the parchment lined cookie sheet and smooth out with a spatula. Sprinkle with the chopped hazelnuts

Bake for 12-15 minutes or until springy and edges begin to pull away.

Lay out a lint free kitchen towel and sprinkle with a generous amount of confectioners sugar.

Remove the cookie sheet from the oven and quickly flip it onto the towel.

Remove the parchment paper and quickly roll the cake with the towel. Try not to stop rolling once you start.

Let cool for about an hour and a half.

For the filling beat Nutella and Cream Cheese until combined.

Once the cake is cooled carefully unroll it and spread the filling evenly.

Roll the cake back up and chill for at least 2 hours before serving. The more it chills the better! Sprinkle with extra powdered sugar and enjoy!
Recipe Notes
Tip: If you do get a crack in your cake don't worry! More than likely the crack will not show once you roll the cake back up.