Raspberry Almond Thumbprint Cookies
Raspberry Almond Thumbprint Cookies.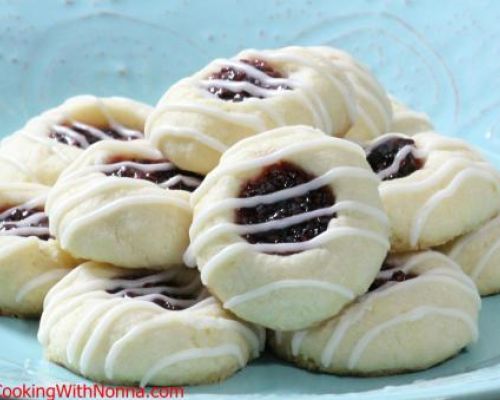 Ingredients
For 1 Dozen(s)
For the Cookies:
8

ounces

butter (room temperature)

2/3

cup

granulated sugar

3

ounces

slivered almonds

1/2

teaspoon

almond extract

1

lemon, zest only

2

cups

all purpose flour

1

cup

raspberry preserves
For the Lemon Glaze:
1

cup

confectioners sugar

2

teaspoons

fresh lemon juice
Directions
Place the almonds in a food processor and process about 1 minute until finely ground. Set aside.

In the bowl of a stand mixer combine the butter, sugar, almond extract and lemon zest. Mix until fluffy, about 5 minutes. Scrape down the bowl when needed.

Mix in the ground almonds until fully combined. Add in flour and mix until just combined.

Cover the bowl and refrigerate at least 2 hours or overnight.

Preheat oven to 350 degrees.

Shape dough into 2 inch balls and space them evenly apart on an ungreased cookie sheet. Make indentations with thumb. If the edges crack use your fingers to smooth them out. It's perfectly fine to have a few cracks. Fill each cookie with a 1-2 tsp of preserves.

Bake for about 14-15 minutes or until slightly golden.

Cool completely before frosting.

To make the glaze add fresh lemon juice to confectioners sugar 1 tsp at a time until you reach the desired consistency. For a ticket glaze add less juice, for a thinner glaze add more. Drizzle over cookies.
Categories:
Dessert & Cookie Recipes
,
Baking with Rossella
,
Easy Recipes
,
All Recipes
,
Christmas Recipes
,
Thanksgiving Recipes
,
Easter Recipes
,
Valentine's Day Recipes
,
Mother's Day Recipes
,
Father's Day Recipes
,
Christmas Cookies Recipes
,
Easter Cakes and Cookies
,
Valentine's Cake and Cookie Recipes
,
Cookies Recipes
,
Thanksgiving Dessert Recipes
,
Almond Cookie and Dessert Recipes
Reviews
Thursday, 26 December 2019
These are so delicious! I could not get them to stay together well; but warming them a bit in my han...
See Full Review >>
- Leighann03
Thursday, 19 December 2019
This is a delicious cookie, well worth the effort and time required to make it. The dough is a bit c...
See Full Review >>
- AuntNina522
Sunday, 06 October 2019
My daughter and her children are allergic to nuts. Rather than leaving out that flavor can you sugg...
See Full Review >>
- RosalinaS