Roasted Pepper Vodka Sauce
Roasted Pepper Vodka Sauce.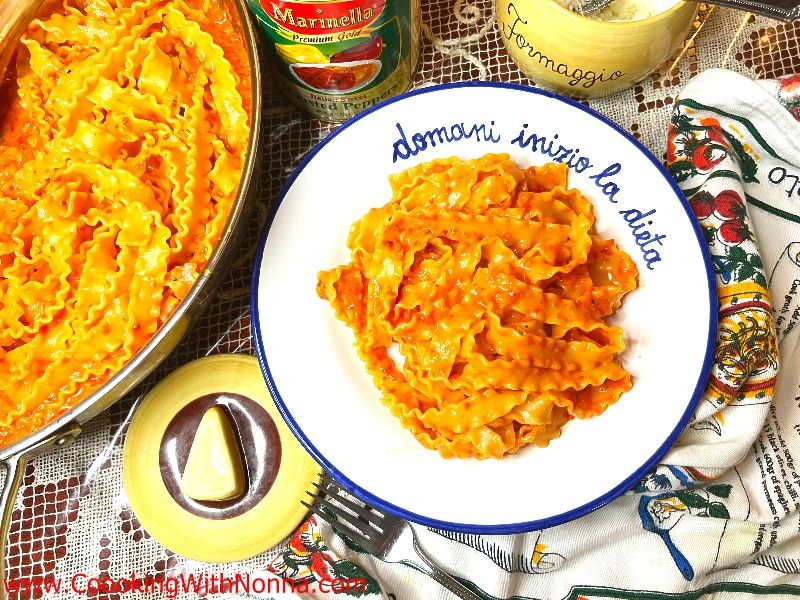 Ingredients
For 4 Person(s)
For the Sauce:
1

28oz can roasted peppers, drained

1/2

cup

salted butter

2

shallots, cut into a 1/4 inch dice

1/2

cup

vodka

3

tablespoons

tomato paste

1 1/2

teaspoons

salt

1

cup

heavy cream

1/2

cup

grated Pecorino Romano

1

pound

dried Mafaldine pasta
Directions
Get the ingredients you need for this recipe

HERE

Add the drained peppers to the bowl of a food processor or a blender and blend until smooth. Set aside.

Put a large skillet over a medium flame and melt the butter. Add the shallots and cook until softened, about 5-7 minutes.

Add the vodka and cook until you no longer smell alcohol, about 1 minute.

Add the tomato paste, blended peppers and salt. Bring to a simmer.

Add in the cream and stir until combined.. Keep the sauce on low while the pasta cooks.

Drop the pasta into generously salted boiling water. Cook until al dente. Drain the pasta and reserve 1/4 cup of pasta water.

Stir in the grated pecorino romano and pasta water cook until melted.

Add the pasta to the sauce and toss over high heat for 1-2 minutes.

Serve in warm bowls with a generous sprinkle of grated pecorino Romano cheese.