Slice of Heaven
This pound cake doesn't last at our gatherings for very long. It's usually gone by the end of the night. Pair it with a nice cup of coffee...Heaven..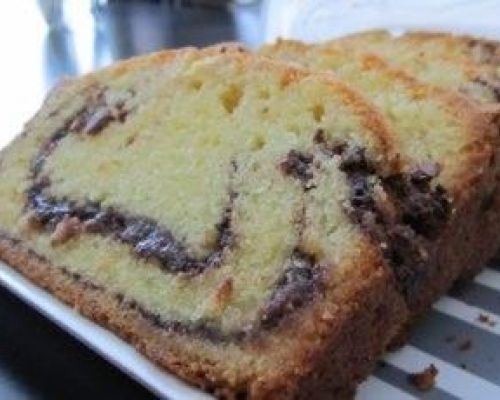 Ingredients
For 8 Person(s)
For the Cake:
1 1/2

all purpose flour, plus more for dusting

1/4

teaspoon

salt

3/4

teaspoon

baking powder

8

ounces

unsalted butter, room temperature

1 1/4

cups

sugar

4

large eggs, at room temperature

2

teaspoon

pure vanilla extract

13

ounces

Nutella
Directions
Preheat the oven to 325 . Lightly grease and flour a 9x5 inch loaf pan, tap out excess flour. In a medium bowl, whisk the 1-1/2 cups of flour with the baking powder and salt and set aside.

In a large bowl beat the butter with the sugar at medium-high speed until fluffy, about 3 minutes. With the mixer at medium-low speed, add the eggs, one at a time, making sure each one gets incorporated before adding the next one. Add the vanilla . Add the flour mixture in 3 batches, beating at low speed between additions until incorporated. Continue to beat for 30 seconds longer.

Spread one-third of the batter in the prepared pan, then spread half of the Nutella on top. Repeat with another third of the batter and the remaining Nutella. Top with the remaining batter. Lightly swirl the Nutella into the batter with a butter knife. Don't overmix.

Bake for about 1 hour and 10 minutes, until a toothpick inserted in the center comes out clean. Let the cake cool in the pan for 15 minutes. Invert the cake onto a wire rack, turn it right side up and let cool completely, about 2 hours.
Recipe Notes
Cut the cake into slices and enjoy a little slice of heaven. Happy Easter ♥ Prep Time:20 Min Cook Time:1 Hr 10 Min
Categories:
Dessert & Cookie Recipes
,
Easy Recipes
,
All Recipes
,
Christmas Recipes
,
Easter Recipes
,
Valentine's Day Recipes
,
Super Bowl Recipes
,
Nutella Recipes
,
Mother's Day Recipes
,
Father's Day Recipes
,
Memorial Day Recipes
,
Labor Day Recipes
,
Easter Cakes and Cookies
,
Valentine's Cake and Cookie Recipes
,
Valentine's Day Nutella Recipes
,
Rossella Nutella
,
Cakes and Pies Recipes
Reviews
Monday, 19 March 2018
I made this over the weekend for friends. It was the best thing I've ever made! Everyone loved it....
See Full Review >>
- Roseann1
Thursday, 14 December 2017
I made this cake for my family and they loved it!! Absolutlt delicious!!!
- Nonna Nancy
Thursday, 08 September 2016
Tasted great, but the Nutella sunk to the bottom and made it stick a bit. Will try putting al of the...
See Full Review >>
- ShesHereXX
Thursday, 08 September 2016
Awesome
- Richard2