Nutella filled Olive Oil Cookies
Nutella filled Olive Oil Cookies.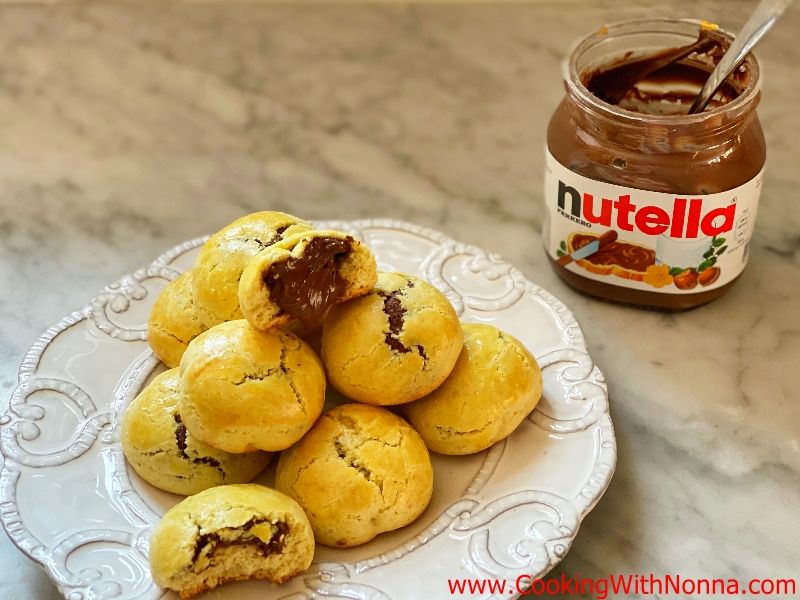 Ingredients
For 2 Dozen(s)
For the Cookies:
2 1/4

cups

00 or all purpose flour

1 1/2

teaspoons

baking powder

1/2

cup

granulated sugar

3

large eggs, divided (2 for the dough, 1 for the egg wash)

6

tablespoons

olive oil

2

packets Vanillina or 2 teaspoons vanilla extract, divided - Vanillina available in La Bottega

about 1 cup Nutella - available in La Bottega - See link Below!
Directions
Preheat the oven to 375ºF (190ºC). Line a Baking Sheet with Parchment paper.

In a mixing bowl, whisk together the flour and baking powder. Set aside.

In another mixing bowl beat the 2 eggs and the sugar on medium speed until lemon colored and foamy, about 5 minutes. Add the olive oil and vanilla and mix until fully incorporated. Add the flour mixture and mix until fully absorbed. The dough will be rather soft.

Flour your hands well. Take a rounded tablespoon of the dough and flatten it into a disk. Add about 1 teaspoon of Nutella to the center and fold the dough around it to seal. Place the cookies about 2 inches (5 cm) apart on the prepared baking sheet.

Beat the remaining 1 egg in a bowl. Brush each cookie with the egg wash. Bake for 12 minutes, or until the cookies are golden brown on top. Cool on a wire rack.
Reviews
Monday, 18 July 2022
My nephew got married this past weekend and my mother and sister did a groomsmen luncheon and I made...
See Full Review >>
- AnnetteLC