Spaghetti alla Puttanesca
Spaghetti alla Puttanesca... the name may sound funny, but they are actually very good.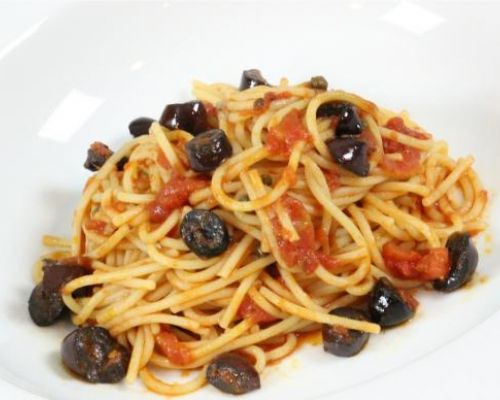 Ingredients
For 4 Person(s)
For the Pasta:
1

pound

Spaghetti

1/4

cup

extra virgin olive oil

1/2

cup

black olives pitted and cut in large chunks

28

ounces

peeled tomatoes cut into large chunks

6

fillets of anchovies in oil

1

ounce

capers cut in large pieces

5

cloves of garlic

peperoncino

salt
Directions
Saute` the garlic in olive oil. Once the garlic turns golden remove it from the oil.

Add the anchovies to the oil and after two minutes add the capers and the olives. Add peperoncino, as desired.

Cook for an additional 3 minutes at medium to high heat and then add the tomatoes and salt.

Cook for about 10 minutes al low heat.

Meanwhile, cook spaghetti Al Dente, when ready, pour spaghetti into sauce, toss for 1-2 minutes and serve.
Categories:
First Course Recipes
,
Nonna Norma Leonardi
,
Fish Recipes
,
Italian Pasta Recipes
,
Lazio Recipes
,
Easy Recipes
,
All Recipes
,
Valentine's Day Recipes
,
Super Bowl Recipes
,
Pasta Puttanesca Recipes
,
Anchovies Recipes
,
Mother's Day Recipes
,
Father's Day Recipes
,
4th July Recipes
,
Labor Day Recipes
,
Spaghetti Recipes
,
Easy Pasta Recipes
Reviews
Thursday, 14 December 2017
This was a perfect blend of flavors for me,since I don't like the heat!
- Rosettaw
Tuesday, 12 December 2017
Delicious
- tlen
Thursday, 08 September 2016
you left out the heat it has a flame to it if you look up the origin name of the sauce you will fin...
See Full Review >>
- Chef Croatia
Thursday, 08 September 2016
Good. But you need crushed red pepper.
- pvandvan