Tripe Rollatini
Tripe Rollatini... a delicacy from Castellana (Puglia).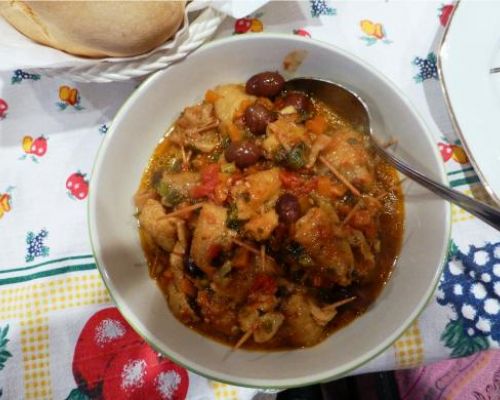 Ingredients
For 2 Person(s)
For the Rollatini & Sauce:
1

pound

tripe

1/4

pound

Pecorino cheese shavings

Parmigiano

1/4

pound

Pancetta

4

cloves garlic

fresh parsley

black pepper

1

cup

chopped tomatoes

2

stalks of celery

2

medium carrots

20

pitted olives

1

medium onion

2

bay leaves

1/2

cup

white wine

extra virgin olive oil

peperoncino
Directions
Wash the tripe very well under cold water.

Cut the tripe in rectangles of about 3"x4" each.

Take each rectangle and sprinkle it with Pecorino cheese shavings.

Add in the middle pieces of Pancetta, garlic, parsley and black pepper.

Roll the tripe and close it either with toothpick or ties them with twine.

In a saute` pan, add some EV olive oil and the chopped parsley, carrots, onion and the remainder of the Pancetta.

Add some peperoncino as desired and add the olives.

Let everything saute` for a few minutes and add the tripe rollatini. Keep on turning them in the pan so that they saute` on all sides.

Add the white wine and let it evaporate.

Add the chopped tomatoes and a little water.

Cover and let everything cook for about 90 minutes at low flame.

Occasionally stir and check the liquids level. If needed add some hot water

Once done serve and garnish with plenty of Parmigiano.